Former Fellow Advances Allergy and Immunology Care, Research and Education in Asia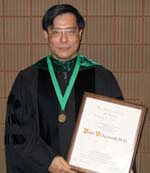 When Pakit Vichyanond, MD, was a fellow at National Jewish Health in the late 1980's, he was known affectionately as "Vic" by his colleagues, mentors and friends. Today, Dr. Vichyanond is a driving force behind an effort to improve the field of allergy and immunology in Thailand and other parts of Asia.
After completing undergraduate and medical school training in his native country of Thailand, Dr. Vichyanond came to the United States where he did a pediatric residency at Saint Jude Children's Research Hospital and The Charity Hospital at New Orleans (Tulane University). He then completed a fellowship in Pediatric Infectious Diseases at The Children's Mercy Hospital in Kansas City. He was a pediatrician in private practice in Kansas for four years before coming to National Jewish Health in 1986 for fellowship training in pediatric allergy.
Throughout his training, Dr. Vichyanond knew that he would one day return to Thailand to share what he had learned. He absorbed as much as he could from his mentors, learned cutting edge procedures, collected research papers and tips from colleagues-knowledge that has helped him become the accomplished clinician, researcher, mentor and advocate he is today.
Return to Thailand
When Dr. Vichyanond returned to Thailand in 1987, the medical field of allergy and immunology there was in its infancy. There was little active research and less than 20 board certified allergists to serve a population of 60 million. Throughout Asia there was room for growth in all aspects of care, research and training.
Since his return to Thailand in 1988, Dr. Vichyanond has served as a pediatric allergist at Samitivej and Siriraj Hospitals in Bangkok and is currently Professor of Pediatrics in the Faculty of Medicine at Siriraj Hospital and Mahidol University. But in addition to his clinical and academic titles, Dr. Vichyanond has played another role. For two decades, he has been a leader and an advocate working to raise awareness about the allergy and immunology field and influencing improvements wherever he could.
Training a New Generation of Allergists
"I knew that in order to advance the field of allergy in Thailand and other countries in Asia, we needed to train new generations of physicians and scientists, publish research, develop board certifications and best practice guidelines and become educators and advocates," says Dr. Vichyanond.
Dr. Vichyanond has authored nearly 100 papers and book chapters and has presented all over the world. He helped establish a pediatric allergy fellowship program that has trained more than 37 pediatric allergy fellows and partnered with National Jewish Health to bring several physicians here for training, including, Orathai Jirapongsananuruk, MD (1996-1999), Akaluck Thatayatikom, MD (1997-2000) and Torpong Thongtorpoing, MD (2000-2002).
Dr. Vichyanond currently serves on more than a dozen committees that influence pediatric and allergy care. One of Dr. Vichyanond's most significant contributions was in 1999-2000 when he was asked to write the first-ever Pediatric Allergy Board Certification for Thailand.
World Allergy Organization Congress
Recently, Dr. Vichyanond helped Thailand take another major step to advance the allergy field. His persuasive presentation, application, and advocacy we re instrumental in securing Bangkok, Thailand as the host of the 2007 World Allergy Organization Congress for the first time in conference history.
"We hope that hosting the WAO Congress to Thailand will continue to heighten the awareness of allergic diseases in this part of the world," said Dr. Vichyanond. "It is also an opportunity for young physicians to realize the impact they can have on the field regardless of what country they are from."
Significant Improvements
Though there is still much work to be done, Dr. Vichyanond has helped Thailand and other countries in Asia make significant improvements in the field of allergy and immunology. Today, there are more than 70 allergists, with another 30 to be board certified next year.
He says this of his alma mater, "National Jewish Health is an extraordinary place where fellows are both challenged and nurtured. I am just one of a long legacy of physicians who love the institution and have utilized what they learned at National Jewish Health to impact patients and colleagues all over the world."