Minh-Vu H. Nguyen, MD, MSc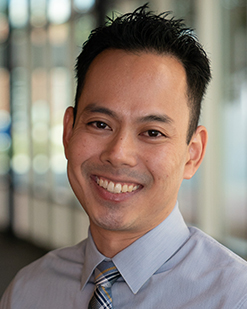 Minh-Vu H. Nguyen, MD, is an infectious disease physician at National Jewish Health. Dr. Nguyen is in the Division of Mycobacterial and Respiratory Infections.
---
---
Special Interests
---
I am an Infectious Diseases physician with an interest in mycobacterial diseases. I am drawn to the challenge of diagnosing and caring for patients with infectious diseases, and tuberculosis (TB) and nontuberculous mycobacteria (NTM) disease are at the pinnacle of this challenge.

More research is needed to improve diagnostics and therapeutics for TB and, especially, NTM disease given its comparatively limited treatment and evidence-based management options. Thus, I have found my next mission in this frontier: to improve our understanding of NTM and care of patients with NTM diseases through clinical and epidemiological research.
Education
---
Education
2016 - 2019

University of California, Davis Health (Sacramento/CA), Internal Medicine Residency

2011 - 2016

Albert Einstein College of Medicine (Bronx/NY), Medical Doctor degree and Masters in Clinical Research Methods
---
Fellowship
2019 - 2022

University of California, Davis Health (Sacramento/CA), Infectious Diseases Fellowship
---
Awards & Recognition
---
2020: Department of Internal Medicine Trainee Research Award, University of California, Davis Health
Board Certification
---
2019: Internal Medicine
2021: Infectious Diseases