Center of Excellence for Silicosis & its Prevention Program
What is silicosis?
Silicosis is a scarring disease of the lung caused by inhaling fine particles of crystalline silica dust. Chronic dry cough and shortness of breath are early symptoms of disease. Silicosis can worsen over time, especially with continued dust exposure. The disease typically takes 5–20 years after first exposure to appear.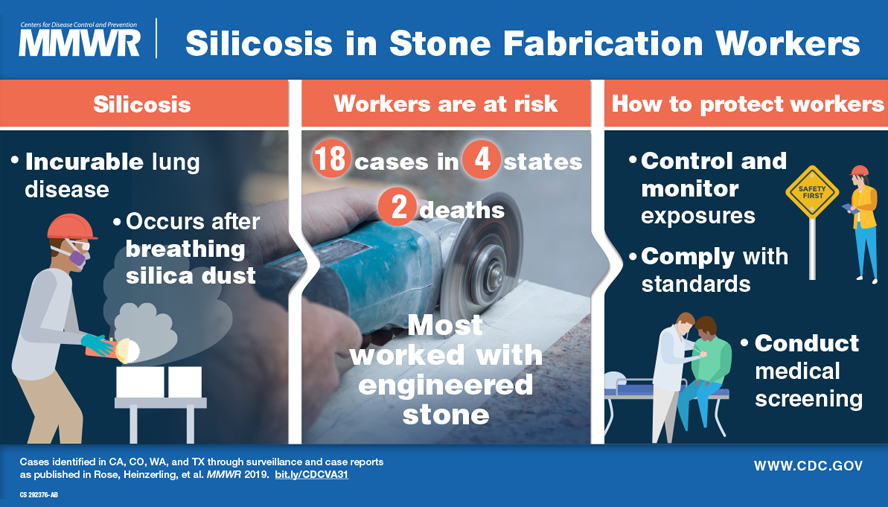 Image courtesy of U.S. Centers for Disease Control and Prevention.
Who gets silicosis?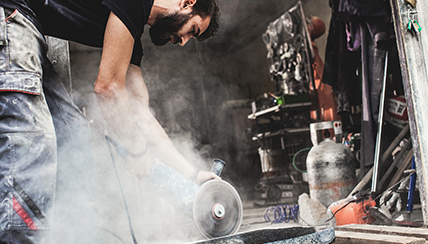 People who work with or around products that contain and release respirable crystalline silica are at risk of silicosis.
Some products that contain silica (also referred to as quartz) include natural stone such as sandstone, marble and granite. Besides quartz, other mineral forms of crystalline silica include tridymite and cristobalite. Engineered (artificial) stone, a mixture of large amounts of quartz with binders (such as anhydride chemicals or epoxy resins), may release high concentrations of respirable silica when it is cut, grinded or polished for use in countertops, tiles and other applications.
Some industries where exposure to silica dust may occur include:
Engineered stone fabrication
Concrete mixing and cutting
Sandblasting
Brick and stone cutting
Foundry work
Construction
Mining (including metal, stone, aggregate and coal mining)
Fracking (hydraulic fracturing for natural gas extraction)
Pottery manufacturing
Why is it important to recognize the exposure sources and early symptoms of silicosis?
Exposure to silica dust has been known for centuries to cause silicosis, yet many cases continue to occur in the United States and worldwide. A recent outbreak in stone fabrication workers has brought renewed attention to the disease. Silicosis is not reversible, but it is preventable. If workers are diagnosed with silicosis, they must be removed from exposure to minimize the risk for progression of fibrotic lung disease and for the other diseases associated with silica exposure.
What other diseases are associated with silica exposure?
Chronic Obstructive Pulmonary Disease (COPD)/Emphysema
Tuberculosis (TB) and other lung infections
Lung cancer
Kidney disease
Autoimmune diseases (such as rheumatoid arthritis and scleroderma)
What services does National Jewish Health offer to workers who have been exposed to silica dust?
For workers:
Diagnosis of silica-related diseases by board-certified occupational lung specialists
Treatment of the complications of silicosis
Careful attention to protecting personal health information
Medical guidance for removal from dust exposure
Benefits counseling
What clinical services do we provide?
Detailed exposure and medical history-taking
Physical Exam
Lung Function Testing
Chest X-Ray with B reading (a specialized interpretation for dust disease of the lung)
QuantiFERON Tuberculosis (TB) blood testing
Other diagnostic testing (such as high resolution chest CT scan, cardiopulmonary exercise testing, arterial blood gas testing, laboratory testing for autoimmune, kidney and infectious diseases)
Conditions Treated & Health Information
Other diseases associated with silica exposure including:

Tuberculosis (TB) and other lung infections
Kidney disease
Autoimmune diseases (such as rheumatoid arthritis)
Research
Check back soon about research opportunities.
Related Programs or Services
What resources are available:
If you have questions about silicosis, you can call the toll free or local number for the National Jewish Health Center of Excellence for Silicosis and Its Prevention:
Local: 303-270-2609, option 2
Toll Free: 877-255-5864, option 2
Para alcanzar el Programa de Silicosis, llame al 877-255-5864 y presione el numero dos
What we offer to employers:
Under the 2017 OSHA Silica Standard, employers are required to comply by:
Making medical surveillance available at no cost to the employee, at a reasonable time and place, for each employee who will be required to use a respirator for 30 or more days per year
This surveillance must be performed a Physician or other Licensed Health Care Provider (PLHCP) with a baseline medical examination happening 30 days after initial assignment and periodic examinations at least every 3 years
The baseline medical examination must consist of:
Medical and work history
Physical examination
Chest x-ray
Pulmonary function test (PFT)
Tuberculosis testing
Any other tests deemed appropriate by the PLHCP
At National Jewish Health, we can offer employers:
OSHA-compliant medical screening and surveillance for early disease

OHSA-compliant respiratory protection services including medical clearance for respirator use and both qualitative and quantitative respirator fit testing.
Resources
Doctors
Jeremy T. Hua, MD, MPH

Richard Kraus, PA-C

Cecile S. Rose, MD, MPH
---
Reasons to Choose National Jewish Health
The leading respiratory hospital in the nation and the only one devoted fully to the treatment of respiratory and related illnesses
Ranked #1 or #2 in Pulmonology by U.S. News & World Report for 26 consecutive years
Ranked in the top 5% of hospitals in the nation by HCAHPS
Physicians consistently recognized among the best in the nation by multiple services, including Best Doctors in America and Castle Connolly
Among the top 6% of organizations funded for research by the NIH, providing patients access to hundreds of active clinical trials
124-year history of focus on care, research and education serving patients from around the world with lung, heart, immune and related disorders
Make an Appointment