Asthma Tune Up Program (Pediatric)

The Pediatric Asthma Tune Up at National Jewish Health for Kids is a one-day intensive visit providing a team approach to managing your child's asthma.
Your child's team includes medical specialists, behavioral health providers, dietitians, physical therapists and wellness educators who specialize in pediatric asthma. We utilize various assessments and diagnostic studies specifically tailored for each child, to determine the best medical and lifestyle strategies to improve asthma.
The Pediatric Asthma Tune Up Program
The team will work with you and your child to: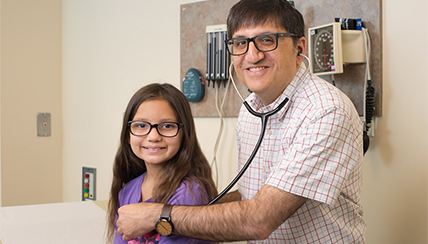 Evaluate asthma triggers and other factors, including environment and social aspects that may impact asthma control

Evaluate current medication regimen and adjust as needed

Develop an individualized exercise program to improve overall fitness while teaching skills to self-monitoring asthma during activity

Recommend a personalized nutrition program to improve overall health

Improve patient self-management skills with education and adherence monitoring

Send a summary of recommendations to your child's primary physician
Upon completion of the Asthma Tune Up visit, you and your child will have an individualized plan that you can follow at home to optimize asthma control with healthy lifestyle and wellness. Follow up with the team will continue for several months to provide guidance, give feedback and troubleshoot concerns that arise along the way.
Related Programs
Doctors
Bruce G. Bender, PhD

Ronina A. Covar, MD

Karen L. Gentile, MSN, RN, CPNP

Elizabeth Gyorkos, PA-C

Therese Ida, MS, RDN

Nathan Rabinovitch, MD, MPH
Clinical Trials
---
For more than 100 years, National Jewish Health has been committed to finding new treatments and cures for diseases. Search our clinical trials.
---
Reasons to Choose National Jewish Health
The leading respiratory hospital in the nation and the only one devoted fully to the treatment of respiratory and related illnesses
Ranked #1 or #2 in Pulmonology by U.S. News & World Report for 26 consecutive years
Ranked in the top 5% of hospitals in the nation by HCAHPS
Physicians consistently recognized among the best in the nation by multiple services, including Best Doctors in America and Castle Connolly
Among the top 6% of organizations funded for research by the NIH, providing patients access to hundreds of active clinical trials
124-year history of focus on care, research and education serving patients from around the world with lung, heart, immune and related disorders
Make an Appointment