National Jewish Health Night and Day Golf Classic Raises $160,000 for Morgridge Academy for Chronically Ill Children on Aug. 2-3 in Denver
Golfers from Across the Nation Enjoyed a Private Dinner at Shanahan's Before Playing Golf at the Sanctuary
---
Denver, CO —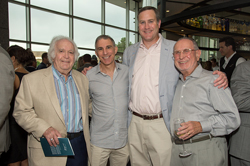 More than 175 golfers and guests raised $160,000 for Morgridge Academy for chronically ill children at the National Jewish Health Night and Day Golf Classic on Aug. 2-3, 2015. The event, presented by RE/MAX and sponsored by Shanahan's, featured dinner at Shanahan's, Denver's most celebrated steak and seafood restaurant, followed by a day of golf at the breathtaking Sanctuary golf course in Sedalia, Colo. This is the fifth year the annual event has been hosted at these two exclusive venues.
Morgridge Academy, located on the National Jewish Health campus, is a free day school for about 90 kindergarten through eighth grade students with a variety of illnesses, including severe asthma and allergies, cystic fibrosis, diabetes and HIV/AIDS. It's the only school of its kind on a medical campus in the country.
"Morgridge Academy provides a safe, friendly and healthy school environment where students succeed academically, medically and socially. Most students come from families that are at or below the poverty level. Typically, they have fallen behind their peers in school because of their illnesses," said Rich Schierburg, chair of the National Jewish Health Board of Directors.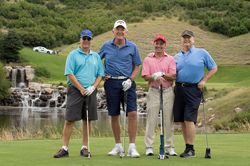 "The National Jewish Health Golf Classic enables the institution to teach and care for Morgridge Academy students, whose families did not know where else to turn before they found National Jewish Health," said Marc Steron, managing partner of Shanahan's, a member of the National Jewish Health Board of Directors and chair of the annual event. "Shanahan's is proud to support this event every year."

Golfers and supporters of National Jewish Health traveled from across the nation to take part in the tournament. The evening of Aug. 2, Shanahan's closed to the general public, allowing attendees to enjoy drinks on the patio, a sumptuous dinner, fine wines and a silent auction. The morning of Aug. 3, golfers reconvened at the Sanctuary, one of the best courses in the United States. The day included lunch and dinner at the Sanctuary clubhouse.

Committee members were Stanton Dodge, David Engleberg, Michael Harms, Marc Paolicelli, Laszlo Pook, Dan Raap, Eddie Robinson, Meyer Saltzman, Tim Stevens, Gregg Stone and Aaron Wiebelhaus.

In addition to RE/MAX and Shanahan's, contributors included Par Foursome Sponsors Paulette Brody, the R. Stanton Dodge Family, Greiner Electric, H+L Architecture, Lockton, TeleTech, the Tornberg Family and Trautman & Shreve; Hole in One Sponsor Kuni Lexus; and Golf Ball Sponsor Turner Construction.

For more information on the National Jewish Health Golf Classic, contact Rebecca Reutlinger at ReutlingerR@njhealth.org or 303.728.6576, or visit njhgolfclassic.org.

National Jewish Health is the leading respiratory hospital in the nation. Founded 124 years ago as a nonprofit hospital, National Jewish Health today is the only facility in the world dedicated exclusively to groundbreaking medical research and treatment of children and adults with respiratory, cardiac, immune and related disorders. Patients and families come to National Jewish Health from around the world to receive cutting-edge, comprehensive, coordinated care. To learn more, visit the media resources page.
Media Resources
---
We have many faculty members, from bench scientists to clinicians, who can speak on almost any aspect of respiratory, immune, cardiac and gastrointestinal disease as well as lung cancer and basic immunology.
Media Contacts
---
Our team is available to arrange interviews, discuss events and story ideas.