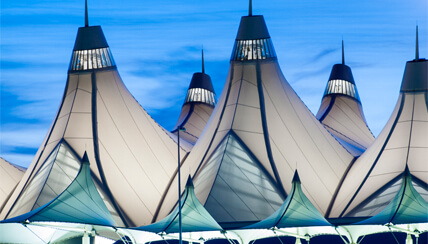 Denver International Airport (DIA) is easily accessible and conveniently located less than 25 miles from National Jewish Health.
Passenger flights arrive at A, B, and C Gates. Passengers arriving at A gates can choose to walk over a pedestrian bridge or take the passenger train. Passengers arriving at B and C Gates must take the passenger train. Because only ticketed passengers may go to airline gates – except for people escorting a passenger who is elderly, a minor, or an individual with disabilities – most travelers are met in the central area of Jeppesen Terminal, on level 5, in front of the exits marked "Arrivals."
Denver International Airport Map
DIA's customer service staff is available to help navigate the airport smoothly. There are several ways to get information and help:
Use white courtesy telephones located throughout the airport.
Look for information booths located centrally in Jeppesen Terminal and in each concourse (A, B & C).
Talk to one of the airport's Hospitality Ambassadors stationed throughout the airport. They wear white cowboy hats and beige leather vests, so they are easily recognizable and happy to provide assistance.
Visit the Denver International Airport website and scroll to the bottom of the home page to read about DIA in different languages.
Domestic Arrivals
If a connection is involved, passengers clear U.S. Customs and Border Protection at their first port of entry. Passengers will not be required to go through another clearance when they arrive in Denver. Domestic travelers are met in the Jeppesen Terminal Level 5, at either the train exit or the appropriate baggage-claim carousel (they are divided between Terminal West and Terminal East, according to airline).
International Arrivals
If you are arriving directly from another country and have not cleared U.S. Customs, you will arrive at DIA's A Gates. After deplaning, you will travel through a passageway and over an enclosed bridge to an escalator or elevator to U.S. Customs and Immigration, located in the Jeppesen Terminal.
Customs and Federal Inspection Services
Immigration agents will examine your passport and other required government documentation. You will collect your baggage there and enter a line for a U.S. Customs officer, who will ask whether you have any merchandise or currency to declare before you enter the United States. Passengers will exit Customs and find the international arrival area on level 5 of Jeppesen Terminal.
Visit the U.S. Department of Homeland Security for more information.
Transportation From Airport
For all passengers, ground transportation information is located in Jeppesen Terminal, level 5. Walk to the center of the terminal atrium to find rental car agents and information about bus, shuttle, limousine and taxicab service.
Denver International Airport Ground Transportation

NOTE: Baggage claim is on level 5 and does not have public vehicle access. Vehicles are allowed to drive through and pick up passengers only on level 4.
Currency Exchange
You can exchange currency at World Wide Money Exchange, located in the Jeppesen Terminal to the right as you exit the international arrivals area. There are additional locations at A gates and at B gates on the gate level above the train station. Automated teller machines (ATMs) are located throughout the airport.