Complex COVID case requires multidisciplinary approach
The second time Lillian Downs got COVID-19, she came to National Jewish Health. During her first bout with the disease, the previously healthy, active 16-year-old had spent three months in two different hospitals with a severe and bewildering set of symptoms, which included painful, open sores over her entire body. So, when she developed the disease for a second time, her parents quickly sought experimental antibody treatments at National Jewish Health that could reduce its severity. But when infectious disease expert Jared Eddy, MD, saw Lillian before the antibody infusion, he realized that she needed a more extensive evaluation.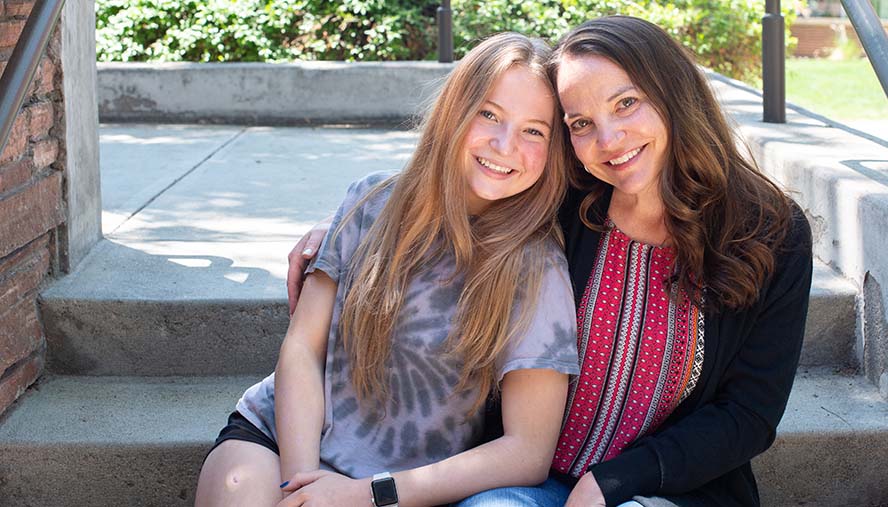 "Her earlier lengthy hospitalizations, a second case of COVID-19 and the sores on her skin indicated that Lillian's situation was more complex than most COVID-19 cases," said Dr. Eddy.
Lillian saw a team of specialists at the National Jewish Health Center for Post-COVID Care and Recovery, including a pediatric pulmonologist, cardiologist, rheumatologist, gastroenterologist and immunologist.
"It was such a relief to get to National Jewish Health," said her mother, Elisa Downs. "We finally have a team that listens to us and is diving deeply into her case to understand it and find a solution."
Pediatric allergy/immunology fellow Chad Lomas, MD, has coordinated several specialists addressing different aspects of Lillian's condition. Cardiologist Ankie Amos, MD, helped control her episodes of extremely rapid heartbeats with medication. Pediatric pulmonologist Ronina Covar, MD, diagnosed new onset asthma and prescribed medications that improved her breathing. Rheumatologist Isabelle Amigues, MD, diagnosed Lillian with a rare autoimmune disease that can cause skin sores. Together, they continue to distinguish previous underlying conditions from long COVID and how best to address them together.
By the summer of 2021, Lillian's skin sores had almost completely disappeared, her rapid heartbeats had evened out and she was breathing better. She was able to taper off pain medications, and she regained her strength. She even ventured onto the soccer field for the first time in many months and looked forward to the start of school.
"The doctors at National Jewish Health have been so great," said Lillian. "I feel so much better."
"We are so grateful to National Jewish Health," said Elisa. "They have been so engaged, investigating all aspects of her case and searching, searching, searching for answers and treatments that can help our daughter. We couldn't ask for more."
Your gift today will support children and adults with lung, heart, immune and related conditions.
Make a Donation Today