2019 Outstanding Nurse of the Year: Clinical Practice
Awardee: Shirley Brown, RN, BSN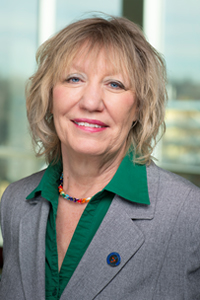 Shirley Brown is the Lung Line Nurse at National Jewish Health. Shirley has a broad knowledge base related to chronic illness and the diseases we treat. She is an advocate for the clients and families who call with questions. A colleague stated, "As a Lung Line Nurse, Shirley answers calls and emails from around the world. Her broad range of knowledge is phenomenal".
A colleague added, "Shirley's well developed listening skills allow her to assess a client working with them remotely. She is often the liaison between the client and provider. I have heard her coach clients in the fine art of communicating with health care providers." Another colleague added, "Shirley's communication style is grounded in team-work, sharing of knowledge, advocating and mentoring for the benefit of Lung Line clients and National Jewish Health.
A colleague who nominated her stated "Shirley attends a number of community support groups held at National Jewish Health, including the Diabetes, Lung Cancer and COPD support groups. She also volunteers with Walk with a Doc."
Shirley is an active member of the American Academy of Ambulatory Care Nursing. She is also an honorary member of TREA: The Enlisted Association.
A colleague summed up, "Shirley's calm demeanor makes her welcoming and easy to communicate with clients, families and NJH staff."
Other nominees for Clinical Practice Nurse:
Rachel Alvidrez
Mikaila Barton-Gawryn
Michelena Brew
Shirley Brown
Luz Cowell
Cori Fratelli
Eileen Gallagher
Tracie Gallegos
Marie Kamm
Robin Lingg LaGrone
Veronika Peltekova

Allison Rogenmoser
Stefanie Smetana
Cristine Solomon
Alison Stanton
Barb Strain
Beth Ann Wagy
Victoria Wessell
Suzanne Williams
Deborah Wolf
Seth Zunker
2019 Outstanding Nurse of the Year: Administrator, Educator, Researcher or Non-Traditional Practice Nurse
Awardee: Darci J. Martinez, RN, BSN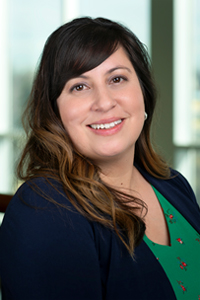 Darci Martinez currently works as the Interim Pediatric Nurse Manager with the Pediatric Program at National Jewish Health. A colleague stated, "Darci is a wonderful role model. She is continuing her nursing education and encourages us to participate in committees, education and teamwork. She has initiated morning huddles in both pediatric areas." Another colleague added, "Darci has assessed staff learning needs and is initiating processes to enable staff to grow and expand their skill base."
Darci has also served in a variety of roles at NJH. She was the Organizational Joint Commission Liaison and Regulatory Coordinator during our most recent Joint Commission Survey. She has excellent clinical skills and has been utilized as the Nursing House Supervisor. In both these roles she has been a Team Lead for hospital Sentinel Events, Root-Cause Analysis and Patient Safety Briefs.
Darci is an active member and an officer of the Denver Chapter of the National Association of Hispanic Nurses. She is also an active member of SALUTE Veterans National Honor Society.
In addition, Darci has completed 480 clinical hours toward BSN to DNP –Family Practice Program.
Other nominees for Administrator, Educator, Researcher or Non-Traditional Practice Nurse:
Sharon Baker
Sheryl Barnla
Dalana Bernt
Sara Brayshaw &
CF Team
Caroline Bronchick
Kaci Chacon

Gwendolyn Gennaro
Katie Lattimore
Darci Martinez
Renee Mondragon
Katherine Rosen
Jennifer Sederberg
View Archives