Seeing a Cardiologist for Cardiotoxicity
Written by Todd Neff on behalf of National Jewish Health
Chances are that, if you ask a past or present cancer patient about cardiotoxicity, you'll get a blank stare. Most patients and many primary care providers have not heard about this condition.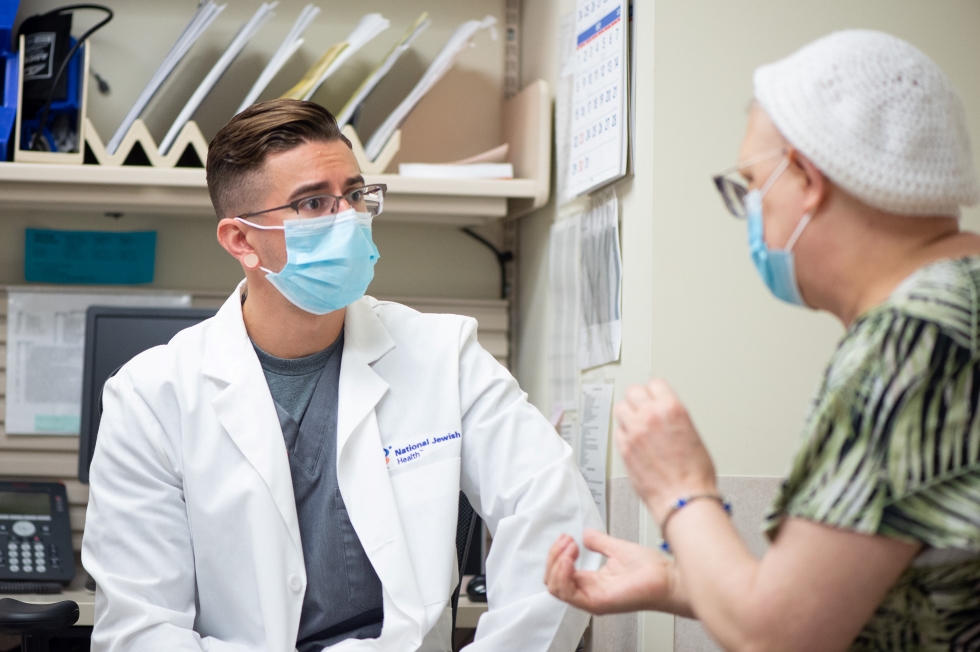 Heart damage caused by certain cancer drugs and treatment is called cardiotoxicity. It can cause myocarditis (heart inflammation), high blood pressure, abnormal heart rhythms or heart failure. Symptoms can appear during or soon after cancer treatment. Yet, survivors of childhood cancer may not have symptoms for years afterward.
As cancer care has improved, cardiotoxicity has become a serious and increasingly common medical issue. This condition is treated by a cardio-oncologist. This is a heart expert who has special training.

Start Early
National Jewish Health cardio-oncologist Christopher Fine, MD, FACC, says his work bridges the gap between cancer care and heart health. That process ideally starts as soon after a cancer diagnosis as possible. A cardio-oncologist provides screening, testing, diagnosis, treatment and monitoring for problems that are connected to cancer care.

Cardiotoxicity can appear years after treatment. Tackling cardiotoxicity is most pressing while cancer treatment is happening, says Dr. Fine. In certain cases, heart problems can lead to interruptions in cancer care or a switch to a different cancer drug. Sometimes, that change can be safer, but less-effective.

"We've developed more sophisticated strategies to monitor for early signs of cardiotoxicity, so the patient and their oncologist don't have to modify their cancer treatment," said Dr. Fine.

Cardio-oncologists play a key role in cancer care. They keep up with the growing number of cancer therapies. They also follow the constant flow of research showing how those therapies can hurt the heart and circulatory system.

"We know a lot about the short- and long-term impacts of cancer treatments on the heart," said Dr. Fine. "Your typical cardiologist won't have that information, and neither will your typical oncologist, who is rightly focused on treating the cancer itself."

Cardiotoxicity care starts with understanding a cancer patient's risk for heart-related problems.

Risk factors of cardiotoxicity include:
Age

Gender

Ethnicity

Past heart problems such as heart attacks, arrhythmias, or heart failure

Existing cardiovascular diagnoses such as high blood pressure and high cholesterol

Chronic diseases such as diabetes

The nature of past or present cancer diagnoses and their treatments
Based on these risk factors, Dr. Fine assess whether a patient is at high, medium, or low risk for cardiotoxicity. For patients of high or moderate-risk, a treatment plan may include combinations of lab tests, electrocardiograms, and imaging that can spot problems early before symptoms appear.

"Then we intervene to kind of cut it off at the pass before it escalates to something more significant – to the point where they would need to modify their cancer treatment," said Dr. Fine.

Building Awareness of Cardio-Oncology
Cardiotoxicity treatments are much the same as the ones for other common heart problems. They can include lifestyle changes and medications. But even familiar ones such as lifestyle changes can be harder for someone undergoing cancer care. That's because cancer patients may be struggling with fatigue and nausea. They also may be dealing with side effects of their treatments. Still, a focus on healthy eating, stress reduction and emotional, psychological and spiritual support is part of the equation.

Medications often come into play too. Aspirin, statins, blood pressure drugs and medications that target heart-failure may be used to treat or prevent cardiotoxicity.

"We don't need to start medications for everybody, but, depending on the risk and the cancer treatment they're getting, there's a lot of data to support using medications to help protect the heart during treatment," explained Dr. Fine.

There's a lot that cardio-oncologists can do for the growing challenge of cardiotoxicity. One of the big hurdles is increasing awareness among physicians and consumers.

"There are huge gaps in the knowledge of patients' medical providers – whether they are primary care physicians, oncologists or cardiologists. We need to increase the awareness of what a dedicated cardio-oncology-trained provider can do, and how they can positively impact the care of patients," stated Dr. Fine. "This is a golden opportunity to have someone who can bridge those gaps and truly be a part of a multidisciplinary team during and after cancer treatment."

Related Articles
Is Cardiotoxicity Affecting Your Health?
What is Cardiotoxicity?

Related Program
Cardio-oncology
Oncology