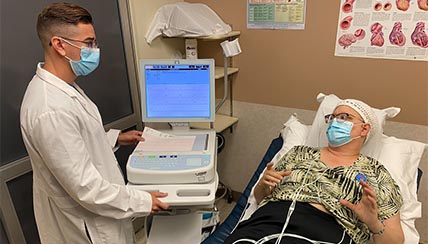 The National Jewish Health Cardio-Oncology Program helps prevent and treat heart disease resulting from cancer treatment.
According to the American Cancer Society, nearly 2 million new cases of cancer will be diagnosed this year. More effective treatments developed over the last 30 years have increased cancer survival rates, but can damage the heart and the whole cardiovascular system.

Cardio-oncology is a relatively new medical specialty created to manage the heart health of patients before, during and after cancer treatment with the goals of preventing and possibly reversing heart-related side effects of cancer therapies.A cardio-oncologist is a cardiologist or oncologist with additional training in the specific heart-related drug effects of cancer treatment.
Damage to the heart muscle caused by some cancer treatments is called cardiotoxicity or toxicity in the heart. As a result, the heart is weaker and may not work as well as it did before. Damage to the heart from cancer treatment can reduce quality of life and increase heart-related risk of death. Prevention and early detection of cardiotoxicity are important.

Cardio-Oncology at National Jewish Health
The National Jewish Health Cardio-Oncology Program provides evaluation and treatment to prevent and limit potential damage to the heart from chemotherapy and radiation treatment.

The program is led by Chris Fine, MD. Dr. Fine is a fellowship-trained and board certified cardiologist with dedicated training in cardio-oncology. He is one of the few board certified cardio-oncologists in the US.
Our cardio-oncology team works with each patient's existing care team to co-manage planning and treatment to ensure the best possible cancer care, the lowest impact on heart health and the best communication between providers and patients. The National Jewish Health cardio-oncology team treats cardiotoxicity in patients with solid tumors in cancers of the lungs, head and neck, stomach and GI tract.
National Jewish Health uses a multispecialty approach to care. This team approach allows multiple specialists to work together to diagnose cardiotoxicity, develop treatment plans and solve issues that arise. Other specialists that may be involved in the care of cardio-oncology patients can include:
Cardiologists
Oncologists
Nutritionists
Pulmonologists
Radiologist
Exercise physiologists
Physical therapists
Occupational therapists

Benefits for Patients
Comprehensive evaluation for cardiotoxic risk
Multidisciplinary approach – cardiologists, oncologists and other specialists working together
Comprehensive care including rehabilitation services, nutrition counseling
Access to advanced testing (one of the few hospitals nationwide to offer cardiopulmonary exercise testing)
Individualized treatment

Cardio-Oncology Evaluation
National Jewish Health offers the latest in diagnostic testing to detect early signs of cardiac side effects from cancer treatment before significant complications develop. Evaluation is tailored to each patient's needs and may include:
Risk assessment
Risk-based diagnostic evaluation
Initiation of cardio protective strategies
Surveillance
Minimizing risk of cancer treatment interruption
Treating cardiotoxicities after development and working with the oncology team to identify alternative treatments if needed

Diagnostic Tests Can Include:
Echocardiogram (Echo) – this ultrasound of the heart gives a comprehensive evaluation of cardiac structures and blood flows through those structures. When performed at the beginning of cancer treatment and at different times during cancer treatments this test can evaluate different changes that could lead to a change in treatment plan. A cardio-oncologist may prescribe medication to protect the heart.
Electrocardiogram (EKG) – records the heart's electrical signal and can indicate changes in the heartbeat.
Blood tests – to measure the level of proteins in the blood and risk of heart disease.
Additional advanced-testing options are available if needed.

Cardio-Oncology Treatment
The cardio-oncologist will review results of your tests and determine if cardio-oncology treatment is needed to protect your heart. Very often, cardiovascular function improves once the cancer treatment is done. A personalized treatment will be developed for you that may include medication, cardiac rehabilitation and nutrition counseling, among others.
Common medications such as aspirin, statins, beta blockers, ACE inhibitors, diuretics and more are used to protect the heart during cancer treatment.
Doctors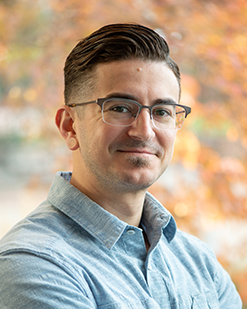 Chris Fine, MD, FACC
---
Reasons to Choose National Jewish Health
The leading respiratory hospital in the nation and the only one devoted fully to the treatment of respiratory and related illnesses
Ranked #1 or #2 in Pulmonology by U.S. News & World Report for 26 consecutive years
Ranked in the top 5% of hospitals in the nation by HCAHPS
Physicians consistently recognized among the best in the nation by multiple services, including Best Doctors in America and Castle Connolly
Among the top 6% of organizations funded for research by the NIH, providing patients access to hundreds of active clinical trials
124-year history of focus on care, research and education serving patients from around the world with lung, heart, immune and related disorders
Make an Appointment