Are Rising RSV Cases Causing a Tripledemic?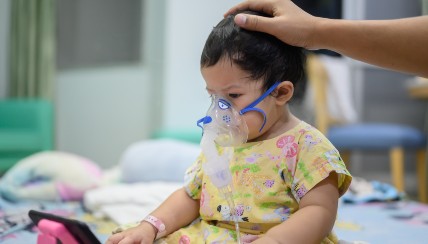 Children's hospitals across the nation are being overwhelmed. The COVID pandemic may have been declared over, but the virus is still at large. And this season the illness is joined by surging respiratory syncytial virus (RSV) infections among children. Combined with the flu, the trio of respiratory illnesses on the loose this winter has raised concerns of a "tripledemic," as doctors and nurses scramble to help patients during an already busy season.

"Every bed is full, and the ERs are just packed with kids with respiratory symptoms coming in," said Carrie Horn, MD, chief medical officer for National Jewish Health. According to Horn, while the flu and COVID remain a problem, RSV cases account for the majority of new hospitalizations among kids.

Rising RSV Numbers
Since Oct. 1, there have been 1,427 RSV-associated hospitalizations reported to the Colorado Department of Public Health & Environment in the five-county Denver metropolitan area. This is more than double the highest figure from the last five years. The respiratory illness season has just begun, and Dr. Horn and others expect a further uptick.

Why is RSV on the rebound after two years of lower infection rates? Dr. Horn suggested two possible reasons. First, many people have stopped following the COVID prevention practices from the pandemic. These measures were likely responsible for suppressing the flu and other respiratory viruses.

Second, because we were less exposed to these viruses over the last two years, it's possible that our immune systems were not as prepared. "I think experts predicted that after wearing masks and social distancing for two years, we were bound to have lost a little bit of immunity to other viruses," said Dr. Horn. "Part of how immunity works is that you have circulating antibodies in your system. Their job is to recognize an infection to then mobilize your bigger defenses. And the more proximal you are to your most recent infection, the more circulating antibodies you have to recognize and respond quickly."

Fortunately, coinfection with more than one of the three major respiratory viruses this season doesn't appear to be common. The main concern of the tripledemic is the capacity of hospitals to deal with COVID, flu and the rising wave of RSV patients all at once.

For the most part, RSV affects young children and babies, especially those born prematurely. However, the virus can be harmful for people age 65 and up, along with those who have pre-existing lung conditions or suppressed immune systems.

RSV Symptoms and Safeguards
RSV symptoms can include runny nose, coughing, sneezing and fever. When caring for a small child, Dr. Horn stressed watching out for signs of breathing difficulty. If a baby seems to be panting or working extra hard to breath, this could be a sign of RSV infection and may require hospitalization.

Because hospitals are being swamped with respiratory virus patients this season, it's crucial to stay current on your vaccinations. Make sure you get your latest COVID and flu shot as soon as you can. While an RSV vaccine is not yet available, according to Dr. Horn it's possible that one may be developed soon in view of the current wave of infections.

You can also take steps to avoid infection by washing your hands regularly and refraining from touching your face. Use techniques like the "vampire cough" (coughing into the crook of your elbow instead of your hand) to prevent the spread of bacteria and viruses to others.

The lessons learned during the pandemic (social distancing, mask wearing) are also just as effective during the tripledemic. "Don't feel bad if you're wearing a mask. You can always wear a mask to protect yourself," said Dr. Horn. "Remember, the higher the quality of the mask, the more you're protecting yourself and others. And then if somebody is ill, it is always okay to cancel your plans."

If you have concerns about you or your child's risk of RSV, COVID or flu infection, talk to your doctor for more information.

This information has been approved by Carrie Horn, MD (December 2022).