Credits National Jewish Health for whole-person care.
Mouhamed, now 14, spent his childhood as a healthy young man who enjoyed socializing with friends, playing football and spending time around animals. He showed no signs of serious health conditions – until late 2018 after returning from vacation in Algeria.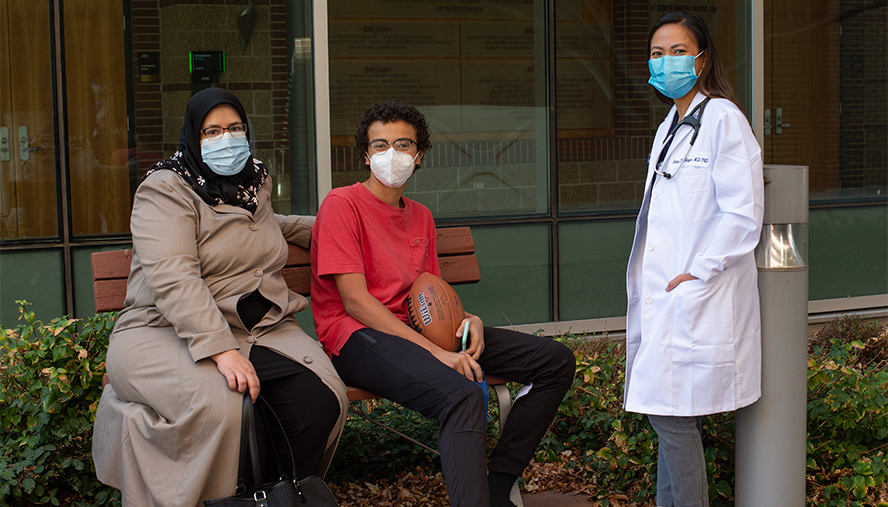 "After that vacation, everything went south," said Mouhamed. "I started having trouble breathing and was weak. I was hospitalized for three days and put on oxygen. It was scary not to be able to breathe on my own and to not know why."
The doctors at a local hospital suspected Mouhamed had asthma, but could not definitively provide that diagnosis, as this was his first attack and his oxygen levels remained normal. They referred him to National Jewish Health for further testing, telling his parents that it would be the best place to go for breathing problems.
"The first thing I saw when we drove into National Jewish Health was a banner displaying '#1 respiratory hospital,'" explained Mouhamed. "When I read that, I calmed down, I felt relieved. I then walked in and saw many other kids happy and smiling and knew I would be taken care of."
Mouhamed's primary National Jewish Health physician is Anna K. Meyer, MD, PhD, an allergist and immunologist who immediately ran sophisticated tests, confirming he had asthma and allergies to cats and dogs.
"I denied the test results," said Souad, Mouhamed's mother. "I couldn't believe he had all this develop in one year. He was healthy, and then he wasn't."
Souad is unsure what led to the development of Mouhamed's allergies and asthma. The only unusual thing she can think of that happened that year was a jelly fish sting while in Algeria. It took him two months to completely recover. It was after that, they started seeing these new conditions emerge.
Dr. Meyer suspects Mouhamed was predisposed to these conditions, and that they had just not been as noticeable or diagnosed until this first major exacerbation that happened to coincide with the jelly fish sting. She placed Mouhamed on a regular regimen of asthma medication, allergy shots and a daily allergy pill.
"We got his asthma under excellent control and on a follow up appointment with me he presented with concerning signs of an eating disorder," Dr. Meyer said.
S
ouad explained to Dr. Meyer that Mouhamed had put himself on a keto diet and lost about 50 pounds in three months. "He was not eating much at all and turned into a different person," she said.
That is when Dr. Meyer brought in National Jewish Health pediatric psychologist Alyssa A. Oland, PhD, and Therese Ida, MS, clinical dietitian. Together, the three of them, along with nurses, provided Mouhamed the whole-person care for which National Jewish Health is known.
"We had the ability to help him with everything he presented to us," Dr. Meyer said, "but to make a difference, required us to build trust with Mouhamed and his mother."
They were able to build that trust, keep his allergies and asthma under control and address the eating disorder and the underlying beliefs contributing to it.
"I was worried about the way I looked more than I was worried about my actual health," Mouhamed said. "At one point, I went four days without eating anything – obviously, that was not good. Even when I would eat, I'd just eat protein and sour cream or cheese. I wouldn't eat bread or carbs. I wouldn't eat anything like that."
Ida and Dr. Oland helped Mouhamed overcome his fear of gaining weight and taught him that a teenager needs healthy carbohydrates in order to grow, and that it is possible to eat well and maintain a healthy weight at the same time. Mouhamed still watches his carb intake, but is diligent about eating balanced meals three times a day, is back to playing football and is a much happier teenager.
"As a kid who was scared, I didn't really see a way out of my eating disorder," Mouhamed said. "My team at National Jewish Health treated me like an individual, gave me the care I needed for all of my conditions and guided me back to a normal life."
Your gift today will support children and adults with lung, heart, immune and related conditions.
Make a Donation Today