Diabetes Self-Management Patient Education Program
If you have diabetes or pre-diabetes, we can help you understand and live well with your disease through patient-focused education, skills training and support.
The National Jewish Health Diabetes Self-Management Education (DSME) Program is committed to providing the most advanced care for patients with pre-diabetes and type-2 diabetes.
Our care team includes a specialty-trained diabetology (diabetes) provider, registered nurse, and registered dietitian. We use the principles of the American Association of Diabetes Educators' (AADE) 7 self-care behavior framework to offer assessments, individualized care plans, and ongoing self-management support.
The DSME Program is appropriate for all patients with pre-diabetes and type 2 diabetes, and can help with:
understanding a recent diabetes or prediabetes diagnosis,
expanding self-management skills,
improving glucose pattern management and/or
targeting specific nutritional needs.
Diabetes Care at National Jewish Health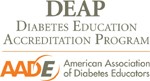 National Jewish Health offers a three-tiered program for patients with type 2 diabetes (T2DM). Our program is nationally accredited by the American Association of Diabetes Educators.
"…diabetes education is moving out of the hospital and into the community, so AADE's accreditation program was created to encourage diabetes education where the patient is seeking care," said Leslie E. Kolb, RN, BSN, MBA, Program Director, AADE Diabetes Education Accreditation Program. "The National Jewish Health Diabetes Self-Management Education Program is exactly the type of program we envisioned when we set up our accreditation program in 2009."
The National Jewish Health Diabetes Program is appropriate for patients who:
are newly diagnosed with type 2 diabetes or prediabetes,
want to expand their self-management skills,
require improved glucose management, and/or
have targeted nutritional needs.
Patients can access all parts of the program, or just the level(s) they choose.
Provider Visit
Initial 60-minute visit with 30-minute follow up visits every three months, with focus on:
comprehensive medical evaluation including screening for and management of complications of diabetes;
medical management of diabetes; and
management of high cholesterol and high blood pressure.
Patient Education Program
Lead by Certified Diabetes Nurse Educator, offering:
review of the basics of disease management;
actions of medications;
blood sugar testing education; and
techniques for administering injectable therapies.
Medical Nutrition Therapy
Individual, focused sessions to help with:
controlling blood sugar and high blood pressure through diet;
carbohydrate counting;
teaching patients how to confidently recognize and treat low blood glucose levels; and
teaching how exercise affects blood glucose
Contact Us
Please call us at 303.398.1355 to schedule an appointment.
Medical Staff
Dthia Kalkwarf, RN, BSN, CDE, BC-ADM
Related Programs
Doctors
Michelle MacDonald, MS, RDN, CDE

Jenna Milliron, NP-C
Clinical Trials
---
For more than 100 years, National Jewish Health has been committed to finding new treatments and cures for diseases. Search our clinical trials.
---
Reasons to Choose National Jewish Health
The leading respiratory hospital in the nation and the only one devoted fully to the treatment of respiratory and related illnesses
Ranked #1 or #2 in Pulmonology by U.S. News & World Report for 26 consecutive years
Ranked in the top 5% of hospitals in the nation by HCAHPS
Physicians consistently recognized among the best in the nation by multiple services, including Best Doctors in America and Castle Connolly
Among the top 6% of organizations funded for research by the NIH, providing patients access to hundreds of active clinical trials
124-year history of focus on care, research and education serving patients from around the world with lung, heart, immune and related disorders
Make an Appointment