State of Colorado Proclamation
John W. Hickenlooper, Governor of the State of Colorado, recently declared the week of May 9, 2016, to be Food Allergy Awareness Week.
Food allergies affect 6 million children in the United States and about 400,000 in Colorado. National Jewish Health diagnoses, treats and educates patients with food allergies, and is one of 24 centers named a Food Allergy Research and Education Clinical Network Center of Excellence. We aim to accelerate the development of drugs for patients with food allergies and improve the quality of care for this serious illness.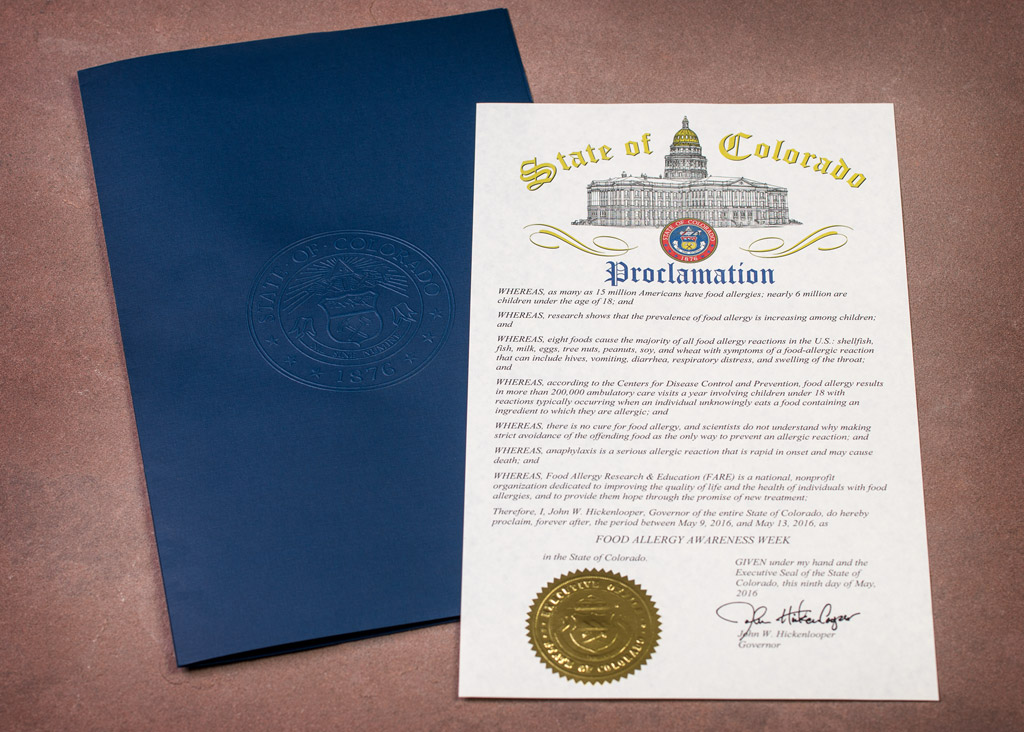 Proclamation
WHEREAS, as many as 15 million Americans have food allergies; nearly 6 million are children under the age of 18; and
WHEREAS, research shows that the prevalence of food allergy is increasing among children; and
WHEREAS, eight foods cause the majority of all food allergy reactions in the U.S.: shellfish, fish, milk, eggs, tree nuts, peanuts, soy, and wheat with symptoms of a food-allergic reaction that can include hives, vomiting, diarrhea, respiratory distress, and swelling of the throat; and
WHEREAS, according to the Centers for Disease Control and Prevention, food allergy results in more than 200,000 ambulatory care visits a year involving children under 18 with reactions typically occurring when an individual unknowingly eats a food containing an ingredient to which they are allergic; and
WHEREAS, there is no cure for food allergy, and scientists do not understand why making strict avoidance of the offending food as the only way to prevent an allergic reaction; and
WHEREAS, anaphylaxis is a serious allergic reaction that is rapid in onset and may cause death; and
WHEREAS, Food Allergy Research & Education (FARE) is a national nonprofit organization dedicated to improving the quality of life and the health of individuals with food allergies, and to provide them hope through the promise of new treatment;
Therefore, I, John W. Hickenlooper, Governor of the entire State of Colorado, do hereby proclaim, forever after, the period between May 9, 2016, and May 13, 2016, as FOOD ALLERGY AWARENESS WEEK in the State of Colorado.
GIVEN under my hand and the Executive Seal of the State of Colorado, this ninth day of May 2016.
John W. Hickenlooper
Governor