303.398.1490
Restore Ability and Return to Activity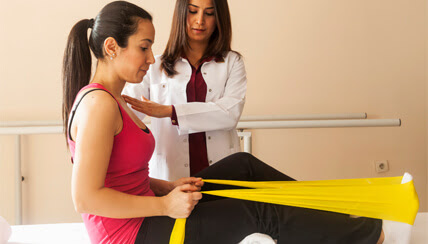 The J. Leonard & Myra Levy Family Rehabilitation Department offers comprehensive, world-class rehabilitation services to patients of all ages. We are committed to working with patients and their families in a safe environment focused on results. Our expertise allows us to treat much more than pulmonary or immune system disorders. If you or your child has been injured, has limitations from an illness, or could improve overall physical or cognitive function, you will not find a better place to get treatment. You will see results.
Learn about the Rehabilitation Services Staff.
In 2008, donor contributions fueled a comprehensive upgrade of the department, bringing in state-of-the-art equipment that provides better workouts for more people. Technogym equipment adds to the updated look and brings equipment similar to that used by Olympians at their training center in Colorado Springs and in Beijing. The Alex Kaufman Pediatric Group Rehabilitation Room is a new space designed just for kids, providing a large, cheerful area separated from the adult space.
Services We Offer
Evaluations and Treatments
Orthopedics
Neurological Injury
Post-operative rehabilitation
Ergonomic assessment
Vestibular evaluation and treatment
Peripheral neuropathy evaluation and treatment
Intramuscular manual therapy (trigger point dry needing)
Lessac Madsen Resonant Voice Therapy (LMRVT)
Videostroboscopy and fiberoptic endoscopic evaluation of swallowing
Modified barium swallow studies
Voice articulation
Credentialed Lee Silverman voice therapy
Any physician can refer you for rehabilitation at National Jewish Health. Your doctor can fax prescriptions and information to us at 303.270.2238, or call us at 303.398.1490.


Doctors
Kathleen Anderson, PT, DPT

Ali Bakke, MA, CCC-SLP

Kristen Boretti, MS, CCC-SLP

Aspen Christen, MS, CCC-SLP

James Coll

Julie Engle, PT

Yakira Gruber, DPT

Paul R. Heitzenrater, CTRS

Shelby R. Jenkins, OTR

Emily A. Nauman, MA, CCC-SLP

Hoang Nguyen, PT, DPT

Amy O'Connell, MS, CCC-SLP

Kimberly Sack, MS, PT

Jillian Strober-Horowitz, MS, OTR/L

Conner Vergoz, MA, CCC-SLP

Allison Zangle, PT, DPT
Clinical Trials
---
For more than 100 years, National Jewish Health has been committed to finding new treatments and cures for diseases. Search our clinical trials.
---
Reasons to Choose National Jewish Health
The leading respiratory hospital in the nation and the only one devoted fully to the treatment of respiratory and related illnesses
Ranked #1 or #2 in Pulmonology by U.S. News & World Report for 26 consecutive years
Ranked in the top 5% of hospitals in the nation by HCAHPS
Physicians consistently recognized among the best in the nation by multiple services, including Best Doctors in America and Castle Connolly
Among the top 6% of organizations funded for research by the NIH, providing patients access to hundreds of active clinical trials
124-year history of focus on care, research and education serving patients from around the world with lung, heart, immune and related disorders
Make an Appointment