University of Pennsylvania
(Philadelphia, PA)
Primary Investigator
Zelma C. Chiesa Fuxench, MD, MSCE, is currently an Assistant Professor of Dermatology at the University of Pennsylvania (PENN) Perelman School of Medicine. She is board certified in dermatology and completed a master's degree in epidemiology and pharmacoepidemiology. She is currently tasked with the development of an atopic dermatitis (AD) specialty clinic within the Department of Dermatology at PENN. Dr. Chiesa's current research awards focus on the epidemiology and clinical study of inflammatory skin diseases, primarily atopic dermatitis. Her work is centered on studying the natural course of the disease as well as the genetic and environmental factors that influence the development of AD; co-morbidities in AD; and clinical trials for novel therapeutic interventions in patients with AD.
Institution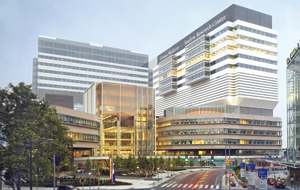 Penn Medicine is one of the world's leading academic medical centers, dedicated to the related missions of medical education, biomedical research, and excellence in patient care. Penn Medicine consists of the Raymond and Ruth Perelman School of Medicine at the University of Pennsylvania (founded in 1765 as the nation's first medical school) and the University of Pennsylvania Health System, which together form a $7.8 billion enterprise.
The Perelman School of Medicine has been ranked among the top medical schools in the United States for more than 20 years, according to U.S. News & World Report's survey of research-oriented medical schools. The School is consistently among the nation's top recipients of funding from the National Institutes of Health, with $405 million awarded in the 2017 fiscal year.
The University of Pennsylvania Health System's patient care facilities include: The Hospital of the University of Pennsylvania and Penn Presbyterian Medical Center — which are recognized as one of the nation's top "Honor Roll" hospitals by U.S. News & World Report — Chester County Hospital; Lancaster General Health; Penn Medicine Princeton Health; Penn Wissahickon Hospice; and Pennsylvania Hospital – the nation's first hospital, founded in 1751. Additional affiliated inpatient care facilities and services throughout the Philadelphia region include Good Shepherd Penn Partners, a partnership between Good Shepherd Rehabilitation Network and Penn Medicine, and Princeton House Behavioral Health, a leading provider of highly skilled and compassionate behavioral healthcare.
Penn Medicine is committed to improving lives and health through a variety of community-based programs and activities. In fiscal year 2017, Penn Medicine provided $500 million to benefit our community.