Details
National Jewish Health is committed to the safety of our patients, staff and the community. Due to the concerns around COVID-19, we are temporarily suspending this support group. We plan to resume these classes as soon as possible and thank you for your understanding.​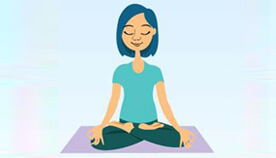 While many people find it difficult to meditate, guided meditations make it easy for anyone to practice. Whether you meditate regularly or are new to the practice and wish to get started, guided meditations provide a way to effortlessly enter into a meditative state by the direction of an expert.
The session will be led by Lata Shirname-More, Manager, Div of Environmental Occupational Health Sciences, who has been a meditator for over 15 years and teaching it as a volunteer & certified instructor, through the Art of Living Foundation, which operates in 154 countries.
No preparation or training required; the voice of the teacher will lead you.
Time:

2nd Wednesday of every month from 11 a.m. to 12 p.m.

Class Days:

Wednesday

Location:

All Patient Education classes meet in the <b>Patient Education Room A01b</b>. The classroom is located in the basement across the hall from the main elevator.
All Adult Classes