A Legacy of Good Health
Debra Kates Shaw Plans Gift to Support the Work that Changed Her Husband's Life
Debra Kates Shaw was not happy with the care her husband, John Shaw, was receiving for chest discomfort near their hometown of Hayden, Colorado. She requested a second opinion from a National Jewish Health cardiologist. They visited with Andrew Freeman, MD, director of cardiovascular prevention and wellness, and clinical cardiology. He completed a thorough workup on John and then made a surprising suggestion. Dr. Freeman asked John to consider adopting a plant-based diet.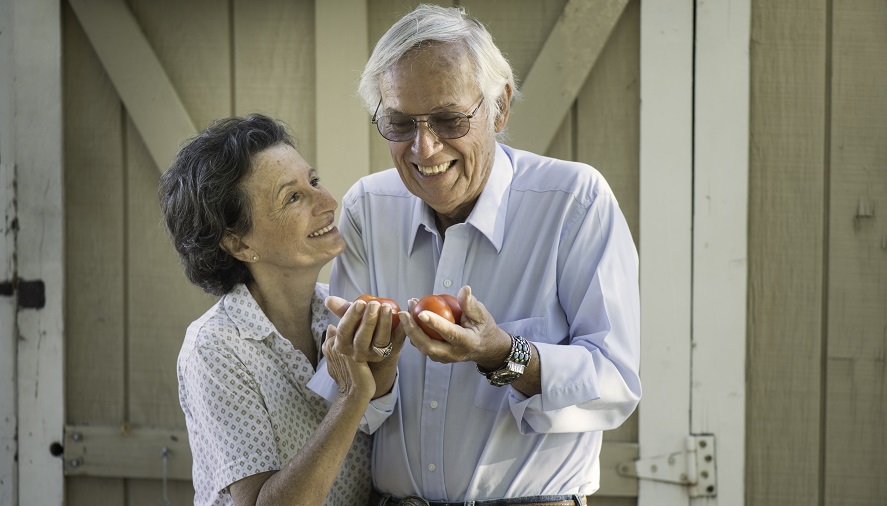 "The four tenets of health are a low-fat, whole-foods, plant-based diet; regular exercise; mindfulness-based stress reduction; and support," explained Dr. Freeman. There was no miracle pill prescribed, just a lifestyle change that Debra credits with saving her husband's life.
"From the moment we walked out of the hospital, John was vegan," Debra said. A plant-based diet excludes meat, as well as eggs, dairy products and all other animal-derived ingredients. Research has shown that plant-based diets, including veganism, are associated with lower incidence of stroke, heart attack and many forms of cancer, as well as increased life expectancy. Dr. Freeman also recommends replacing processed foods with nutrient-packed whole foods, such as whole grain starches, fruits, vegetables and legumes (beans, lentils and peanuts).
"John is still vegan five years later, and no one is talking to him about surgery or heart problems," Debra said. "It is because of Dr. Freeman and this success that I made the pledge I did," she explained. Debra has signed a testamentary pledge agreement and a legacy intention form, indicating that she will give one-third of her estate to National Jewish Health upon her passing.
Debra said that like a lot of people, her money is tied up in real estate, making her "asset-rich and cash-flow poor." She felt a legacy gift was the perfect way to make a difference, and signing those documents ensures that her gift will happen and be directed to her area of interest. "My mother used to tell me that the two things no one can take away from you is a good education and good health. Helping someone live a better life is priceless. I want to be a part of a forward-thinking organization that does that," Debra said.
Your gift today will support children and adults with lung, heart, immune and related conditions.
Make a Donation Today