A Heritage of Health and Welfare
Donor Follows Parents and Others in Supporting National Jewish Health While Improving Her Financial Security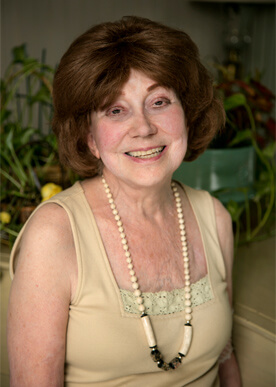 Helen Simons, PsyD, has never been a patient of National Jewish Health. No one in Helen's family has been a patient either. Yet both Helen and her parents believed it was important to give to the hospital.
"I give because National Jewish Health is an organization that does great work," Helen said.
Not long ago, Helen decided to set up a charitable gift annuity with National Jewish Health as the beneficiary.
"I gave a charitable gift annuity because the money eventually goes to National Jewish Health, and in the meantime, I don't lose the dividends or interest."
Helen has always been very generous and service-oriented, especially when it comes to children. She began teaching Sunday School at a Chicago-area temple when she was just 14. She cared for her two children while completing her post-graduate studies. She then served as a school psychologist with Chicago Public Schools for 36 years, retiring at the age of 80.
"I loved working with the children," she said.
Helen attributes her desire to give back, her dedication to the well-being of others and her love for teaching and education to her Jewish heritage.
"I belong to a people who are interested in learning, teaching children and helping support the health and welfare of others," Helen said.
That common Jewish philosophy is what helped National Jewish Health founder, Frances Wisebart Jacobs, build a hospital for destitute individuals suffering from tuberculosis (TB). The Jewish community supported Frances in her mission of health and welfare. In 1899, with funding from the National Jewish B'nai B'rith organization, the nonsectarian hospital received its first patient under its official motto: "None may enter who can pay—none can pay who enter." She named the hospital National Jewish in gratitude.
From its earliest days, the institution has given special care to children. During the TB outbreak, the hospital housed healthy, but impoverished children so they could get medically supervised food and exercise. Today, National Jewish Health is the only medical campus in the country with a school for chronically ill children. This unique place is a free K-8 day school for children diagnosed with diseases including severe asthma and allergies, cystic fibrosis and immune deficiencies, including HIV/AIDS. It provides a safe, friendly and healthy educational environment committed to the academic, medical and social success of the students.
"It is a most worthwhile organization," Helen said. "That is why my family always gave to National Jewish Health, and why I have always given."
Through her charitable gift annuity to National Jewish Health, Helen could support her life-long love for giving and improve her financial security. This type of gift provides her regular income and various tax benefits, while helping National Jewish Health further its mission to heal, to discover and to educate as a preeminent health care institution.
Your gift today will support children and adults with lung, heart, immune and related conditions.