The Anticoagulation Clinic at National Jewish Health follows patients who are taking Anticoagulant Medicine (blood thinners), which help prevent blood clots. If you are taking an anticoagulant, the amount of medicine in your blood should be monitored closely to assure you are getting enough medicine to prevent blood clots, yet not too much to cause bleeding. Regular visits to the Anticoagulation Clinic are important to ensure you are on the right medication and to monitor your blood levels closely (when needed). The Anticoagulation Team includes a doctor, nurse, pharmacist and lab members.
What to Expect in the Anticoagulation Clinic
The nurse in the Anticoagulation Clinic will meet with you each visit. The nurse will talk with you about how to care for yourself when you are taking anticoagulant medicine. Important points include:
Special techniques for taking the medicine
Potential diet and medicine interactions
Signs and symptoms of increased bleeding
Actions to take with increased bleeding
The nurse will draw blood with a fingerstick to test your INR (International Normalized Ratio) level during the visit. The INR is a standard measure of the clotting process time. In most situations, the INR level should fall in a target range. If the INR is too low there is increased risk of blood clot formation. If the INR is too high there is increased risk of bleeding. The Anticoagulation Team will also track your INR results over multiple visits to follow trends in your results. The Anticoagulation Team will look at all this information to determine the dose of medicine you will take.
You will be seen in Anticoagulation Clinic at least every three to four weeks iniitially when using warafarin. You may be seen more or less frequently depending on the anticoagulant medication that your doctor has prescribed. We prescribe and manage the traditional vitamin K antagonists along with all of the new novel oral anticoagulants, some of which require little to no monitoring.
What To Do if You Get a Cut or Bruise
If you get a cut that is bleeding apply pressure to the cut until the bleeding stops. You may want to have gauze pads available when you apply pressure. This will help the blood clot. If the bleeding does not stop or the cut is large, get medical help right away. This may include going to the emergency room or calling 911.
If you have a new bruise, apply a cold pack to the bruise. You may want to have cold packs available also.
When To Call Your Health Care Provider
The main side effect seen with anticoagulant medicine is bleeding. Bleeding or hemorrhage (bleeding within the body) can occur in any part of the body.
If you notice these signs and symptoms call your healthcare provider right away:
Dizziness, headache or trouble thinking clearly
Nosebleeds
Coughing up blood
Nausea or vomiting blood or coffee ground looking material
Swelling, painful or hot joints
Fever
Increased bruising or bleeding
Blood in the urine
Bloody or black, tarry stools
Severe menstrual bleeding
Feeling very tired or weak
Nausea and vomiting for more than 24 hours
Bleeding from the gums after brushing teeth
Also call if you fall or have an accident, especially if you hit your head, even if you feel fine.
If you have questions about how you are feeling or are concerned, please call. You can call the Anticoagulation Nurse at 303.398.1355.
In an emergency please call 911.
Doctors
Christopher K. Dyke, MD, FACC

Andrew M. Freeman, MD, FACC, FACP
---
Reasons to Choose National Jewish Health
The leading respiratory hospital in the nation and the only one devoted fully to the treatment of respiratory and related illnesses
Ranked #1 or #2 in Pulmonology by U.S. News & World Report for 26 consecutive years
Ranked in the top 5% of hospitals in the nation by HCAHPS
Physicians consistently recognized among the best in the nation by multiple services, including Best Doctors in America and Castle Connolly
Among the top 6% of organizations funded for research by the NIH, providing patients access to hundreds of active clinical trials
124-year history of focus on care, research and education serving patients from around the world with lung, heart, immune and related disorders
Make an Appointment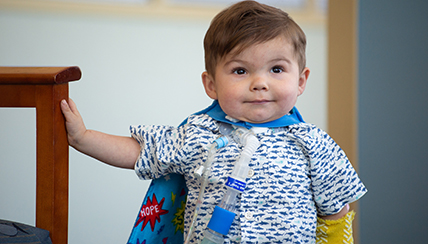 A Medical Team Fit for a Determined Toddler
Read More
All Patient Stories