Advanced Heart Failure Program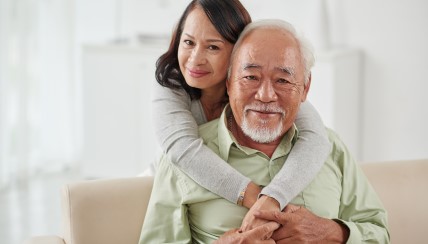 According to the American Heart Association, more than 6 million Americans living with heart failure, and about 10 percent have advanced heart failure. For these patients, conventional heart therapies and symptom management strategies are no longer working.
National Jewish Health in Denver, Colorado, has one of the state's only Advanced Heart Failure Programs. Our program is led by board-certified heart failure specialists who have deep knowledge of the latest therapies, treatments and clinical trials. Plus, we have a multidisciplinary team who works with patients to make sure all of their health conditions are well managed. Our goal is to improve patients' symptoms and, ultimately, their quality of life.
Types of Heart Failure We Treat
At National Jewish Health, we diagnose and treat many types of advanced heart failure, including:
Heart failure with reduced ejection fraction (systolic heart failure)
Heart failure with preserved ejection fraction (diastolic heart failure)
Right-sided heart failure
Cardiac amyloidosis
Cancer and cancer treatment-related heart failure
Advanced Heart Failure Care at National Jewish Health
Advanced heart failure treatment and management options vary widely from person to person, depending on your underlying condition, age, disease stage and care goals.
Diagnosis, Evaluation and Treatment
Our board-certified heart failure specialists work with patients to provide the proper diagnosis and leading-edge therapies and treatments.

Comprehensive Care Planning
Our advanced heart failure team partners with patients and their caregivers to develop customized, comprehensive care plans. Care plans are based on the latest research and treatment options, as well as the patients' personal goals for managing their heart failure symptoms and progression.

Multidisciplinary Care
Advanced heart failure patients commonly have other conditions that need to be managed along with their heart failure. At National Jewish Health, we have a multidisciplinary team – including nephrology, hematology, pulmonology, advanced nursing care, palliative and symptom management care, and home care services – that works with you to make sure all of your conditions are well managed.
Doctors
Ankie Amos, MD, FACC

Santi Yarlagadda, MD
---
Reasons to Choose National Jewish Health
The leading respiratory hospital in the nation and the only one devoted fully to the treatment of respiratory and related illnesses
Ranked #1 or #2 in Pulmonology by U.S. News & World Report for 26 consecutive years
Ranked in the top 5% of hospitals in the nation by HCAHPS
Physicians consistently recognized among the best in the nation by multiple services, including Best Doctors in America and Castle Connolly
Among the top 6% of organizations funded for research by the NIH, providing patients access to hundreds of active clinical trials
124-year history of focus on care, research and education serving patients from around the world with lung, heart, immune and related disorders
Make an Appointment