Nurse's Corner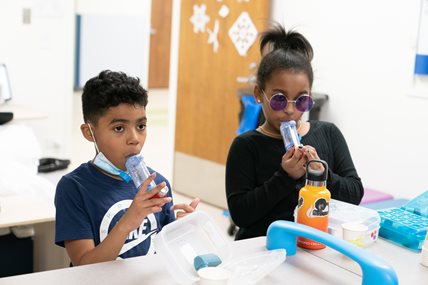 At Morgridge Academy, we believe that school absences due to asthma and other chronic illnesses can be reduced. We also believe that academic, physical, social and emotional needs of students can be met with educational and disease-Specific case management. The teaching staff operates student-centered classrooms addressing the educational needs of each child. Students know that if they are having a stressful day, they will receive medical assistance, if necessary, and be able to continue with their studies.
The goals of the educational program are to help students achieve academic and physical excellence and prepare them to become independent, self-reliant and responsible. With appropriate instruction, students can learn specific self-care practices, which will enable them to monitor their own medical needs.
We have two registered nurses on site every day to facilitate with medical care to our students. Our nurses provide a variety of services for our students such as checking peak flows, administering breathing treatments, assisting students with nasal washes, administering medications, communicating with doctors, and many other services. They also offer educational support for a wide range of health topics.