I am a Professor of Pulmonary and Occupational Medicine with a master's degree in public health. I have been a member of the academic faculty in the Departments of Medicine at National Jewish Health and the University of Colorado School of Medicine for over 30 years. I have a secondary faculty appointment at the Colorado School of Public Health. My clinical and research interests focus on diagnosis, treatment, exposure assessment, and prevention of occupational and environmental lung diseases including the pneumoconioses (silicosis and coal worker's pneumoconiosis), and those related to military deployment in Southwest Asia. In addition to my busy Occupational and Environmental Lung Disease clinic, I have had sustained federal funding for clinical research in these areas as well as national leadership positions to define research priorities and clinical guidelines. I am committed to training the next generation of clinician-educators and physician-scientists, and continue to build multi-institutional clinical and research programs and collaborations in these areas of interest.
Resources & Services
Clinical research program on deployment-related lung diseases: The Center focus is on the clinical spectrum of respiratory diseases, epidemiology, exposure risk factors, noninvasive diagnosis, treatment, and longitudinal outcomes in previously deployed military personnel with persistent respiratory symptoms.
Clinical research program on silicosis, Coal Worker's Pneumoconiosis, and other dust diseases of the lung: Research focus on the clinical, epidemiologic, histopathologic, longitudinal outcomes and prevention of pneumoconiosis in miners, history uranium industry workers and stone fabricators.
Occupational and Environmental Lung Disease Subspecialty Clinic: Diagnosis, treatment, counseling, and exposure assessment/control for environmental and occupational lung diseases, particularly pneumoconioses (silicosis, Black Lung, DOL 413B exams), hypersensitivity pneumonitis, and post-9/11 deployment-related respiratory diseases.
Miners Clinic of Colorado: Free screening and benefits counseling program for coal and other commodity miners and historic uranium industry workers.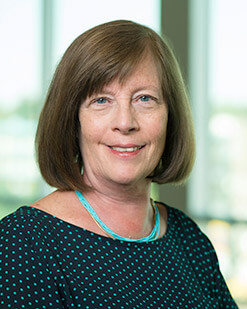 Cecile S. Rose, MD, MPH
Current Projects
Research Interests
Dr. Rose has been involved in collaborative research on mining-related lung diseases including silicosis and coal worker's pneumoconiosis; on silicosis in stone fabricators; and on diagnosis, treatment and pathogenesis of respiratory diseases from hazardous exposures during military deployment. Other research interests have been on the noninfectious granulomatous lung diseases including sarcoidosis and hypersensitivity pneumonitis (with particular focus on hot tub, swimming pool and bioaerosol-related cases). View Current Projects
Clinical Interests
Dr. Rose has a long-standing interest in occupational and environmental lung diseases. She has particular experience in military deployment-related respiratory diseases, hypersensitivity pneumonitis (HP), and in the pneumoconioses, including diagnosis, causation, management and prevention.
Lab Personnel
Collaborators
Meehan, Richard (NJH)
Cool, Carlyne (NJH)
Siebold, Max (NJH)
Everman, Jamie (NJH)
Downey, Greg (NJH)
Day, Brian (NJH)
Chu, Hong Wei (NJH)
Cohen, Robert (University of Illinois at Chicago)
Go, Leonard (University of Illinois at Chicago)
Almberg, Kirsten (University of Illinois at Chicago)
Harris, Drew (University of Virginia)
Lowers, Heather (US Geological Survey)
Sarver, Emily (VA Tech)
Publications
Krefft SD, Rose CS. Histopathologic Insights into Distal Lung Injury and Inflammation following Military Deployment. Am J Respir Crit Care Med. 2022 Aug 1;206(3):233-234. doi: 10.1164/rccm.202204-0801ED. PMID: 35579689.
Hua JT, Zell-Baran L, Go LHT, Kramer MR, Van Bree JB, Chambers D, Deller D, Newbigin K, Matula M, Fireman E, Dahbash M, Martinez-Gonzalez C, León-Jimenez A, Sack C, Ferrer J, Villar A, Almberg KS, Cohen RA, Rose CS. Demographic, exposure and clinical characteristics in a multinational registry of engineered stone workers with silicosis. Occup Environ Med. 2022 May 3;79(9):586–93. doi: 10.1136/oemed-2021-108190. Epub ahead of print. PMID: 35504722; PMCID: PMC9453561.
Zell-Baran LM, Humphries SM, Moore CM, Lynch DA, Charbonnier JP, Oh AS, Rose CS. Quantitative imaging analysis detects subtle airway abnormalities in symptomatic military deployers. BMC Pulm Med. 2022 Apr 27;22(1):163. doi: 10.1186/s12890-022-01960-w. PMID: 35477425; PMCID: PMC9047334.