The goal of our lab research is to perform basic and translational research to understand the mechanisms of airway diseases, and discover new therapeutic targets. Our major research interests include the role of respiratory pathogens (viruses and bacteria) in asthma and chronic obstructive pulmonary disease (COPD) exacerbations. We use human biological samples, cell culture and animal models coupled with cutting-edge technologies (e.g. conditional gene knockout, CRISPR/Cas9, single cell RNA-sequencing) to determine host-pathogen interactions, and the mechanisms by which infections reshape the innate immune system and contribute to asthma and COPD pathobiology.
Current Projects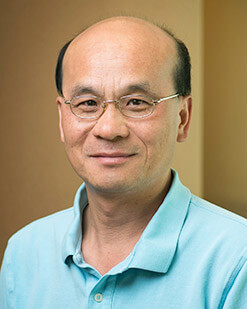 Hong Wei Chu, MD
Publications
Mues N, Martin RJ, Alam R, Schaunaman N, Dimasuay KG, Kolakowski C, Wright CJ, Zheng L, Chu HW. Bacterial DNA amplifies neutrophilic inflammation in IL-17-exposed airways. ERJ Open Res. 2023 Jan 23;9(1):00474-2022. doi: 10.1183/23120541.00474-2022. PMID: 36699649; PMCID: PMC9868970.

Dimasuay KG, Berg B, Schaunaman N, Chu HW. Role of Myeloid Cell-Specific TLR9 in Mitochondrial DNA-Induced Lung Inflammation in Mice. Int J Mol Sci. 2023 Jan 4;24(2):939. doi: 10.3390/ijms24020939. PMID: 36674451; PMCID: PMC9864555.
Lab Resources
The Chu Laboratory offers several unique research methods and animal models for pulmonary basic science research. Learn more.
Lab Activities