Curing Severe Asthma
Every day, 10 Americans die from severe asthma. Our objective is to reduce this number to zero.

Impacts of Severe Asthma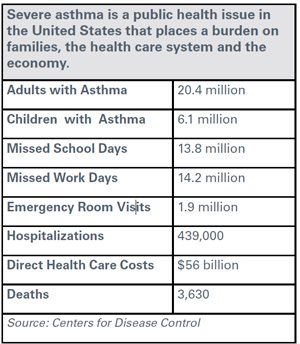 Asthma is a major health crisis in the United States. The Centers for Disease Control estimates 26.5 million Americans, or 1 in 13 people, are living with the condition. Of those, more than 13 million do not have their asthma under control. Asthma is the leading cause of emergency room visits, missed school days and hospitalizations for children.
As many as one-third of asthma patients have uncontrolled disease and they account for the greatest impact on morbidity, mortality and the economic burden of asthma.
A specialized approach to treating severe asthma is rapidly disappearing at health centers nationwide as many major medical and research centers are changing their focus to other conditions, believing asthma is controllable and no further efforts necessary to help patients with this disease. People living with severe and uncontrolled asthma are being left behind and missing out on the personalized care they need and deserve.

Life-Changing Care
People living with severe asthma come to National Jewish Health because we are the nation's leading respiratory hospital and the place for patients suffering from the disease and where physicians want to refer their most difficult cases.
As the trusted leader in caring for patients living with asthma, individuals come to us because we are dedicated to treating the whole person – not just the symptoms – and we focus on the root cause of the disease. Whether a person has mild, moderate or severe asthma, we have a wide range of individualized treatment programs that transform lives.
At National Jewish Health, we never say never. We use a multidisciplinary and multispecialty care approach that integrates clinical and research efforts to deliver the best care possible and expedite the laboratory-to-bedside process that results in successful asthma care. Through ongoing research we are dedicated to gaining a better understanding of asthma in order to discover new treatment options for patients living with this challenging disease.
Asthma remains the most common diagnosis in the U.S. for both adults and children. When a patient first visits National Jewish Health for treatment, we learn about 25 percent have been misdiagnosed with asthma and are taking unnecessary medications! Another 25 percent have additional health problems that need to be addressed in order to begin effectively treating their asthma.
Patients come to National Jewish Health from around the country, and around the world, because we are dedicated to treating the whole patient – not just the symptoms – and because we focus on the root cause of the disease.