My primary research interests are focused toward: 1) understanding the regulation of alveolar epithelial cell maturation during lung development and 2) determining the molecular regulation of surfactant pool sizes in the postnatal and adult lung, with particular interest in diseases associated with surfactant dysfunction. My graduate work focused on the cellular and pathophysiological consequences of disease-linked mutations in the surfactant protein C gene using cell-based assays and transgenic mice. Subsequent postdoctoral studies as a Parker B. Francis pulmonary fellow investigated the function and regulation of the acyltransferase LPCAT1 in the production of saturated phosphatidylcholine (SatPC) in alveolar epithelial type II (AT2) cells, and the role of hypoxia inducible factors during lung development. I continue to pursue these areas of interest, including investigating the mechanisms of pulmonary alveolar proteinosis with respect to GPR116 signaling in AT2 cells and ABCA3-mediated interstitial lung disease in children, as well as bolster projects centered on the transcriptional control of alveolar epithelial cell regeneration during lung repair. In addition, we have recently identified a novel adeno-associated virus (AAV) serotype that targets AT2 cells in vivo with high efficiency and specificity. My laboratory is well poised to assist in determining the role of IGSF3 in AT2 cell barrier function. My laboratory has been isolating, culturing, and functionally characterizing primary AT2 cells from various transgenic mouse models for over 15 years and have recently optimized culture techniques to generate highly differentiated human 2D monolayer and 3D alveolar organoids. We have also optimized transduction of primary AT2 cells in culture to knockdown or overexpress genes of interest using AAV approaches.
Lab Resources and Services
The Bridges Lab is located in the Division of Pulmonary, Critical Care & Sleep Medicine, within the Department of Medicine
Current Projects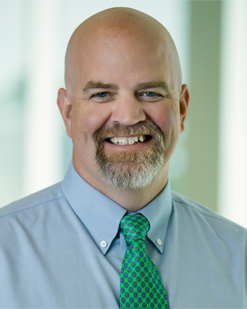 James P. Bridges, PhD
Personnel
Principal Investigator
James P. Bridges, PhD
Collaborators
Sarah Wootton, PhD
Associate Professor of Medicine
University of Guelph, Ontario Veterinary College
Guelph, ON, Canada
Molecular virologist, targeting AAV vectors to alveolar epithelial cells
Robert Mason, MD
Professor Emeritus
Associate Vice President, Academic Affairs
Cetalie & Marcel Weiss Chair in Pulmonary Disease
Department of Medicine, Division of Pulmonary, Critical Care & Sleep Medicine
National Jewish Health
Publications
Higano NS, Cao X, Guo J, Wang X, Kroenke CD, Filuta AL, Bridges JP, Woods JC. Fetal lung development via quantitative biomarkers from diffusion MRI and histological validation in rhesus macaques. J Perinatol. 2022 Jul;42(7):866-872. doi: 10.1038/s41372-021-01236-x. Epub 2021 Oct 22. PubMed PMID: 34686834; PubMed Central PMCID: PMC9023595.
Takahashi T, Takahashi Y, Fee EL, Saito M, Yaegashi N, Usuda H, Bridges JP, Milad MA, Furfaro L, Carter S, Schmidt AF, Newnham JP, Jobe AH, Kemp MW. Continuous but not pulsed low-dose fetal betamethasone exposures extend the durability of antenatal steroid therapy. Am J Physiol Lung Cell Mol Physiol. 2022 Jun 1;322(6):L784-L793. doi: 10.1152/ajplung.00018.2022. Epub 2022 Apr 5. PubMed PMID: 35380907.
Bridges JP, Vladar EK, Huang H, Mason RJ. Respiratory epithelial cell responses to SARS-CoV-2 in COVID-19. Thorax. 2022 Feb;77(2):203-209. doi: 10.1136/thoraxjnl-2021-217561. Epub 2021 Aug 17. Review. PubMed PMID: 34404754; PubMed Central PMCID: PMC9273148.
Opportunities
Research assistant and post-doctoral positions available, please inquire.