Personal Protective Equipment (PPE)
Wearing personal protective equipment (PPE) keeps employees safe and helps reduce the spread of COVID-19 among staff, patients and visitors. All employees are required to wear the appropriate PPE per both state and city government regulations and the official policy of National Jewish Health.
Quick Links
Updated 1/18/2022
Who should wear protective eyewear?
Protective eyewear (e.g., goggles, face shields and trauma safety glasses) is recommended, but optional, for providing care of every patient. Protective eyewear is required for those involved in care of COVID-positive or suspected COVID patients or when splash protection is needed and/or for many AGPs. Patient-facing faculty and staff can either wear protective eyewear and/or be behind Plexiglass/plastic barriers to provide eye protection. For more information reference the PPE Clinical Procedures Table.
What protective eyewear should be worn?
Protective eyewear includes goggles, face shields, and safety glasses with extensions to cover the side of the eyes (e.g., trauma safety glasses). The CDC recommends goggles and face shields over safety glasses, as not all safety glasses provide appropriate eye protection from all splashes and sprays. Safety glasses with large gaps between glasses and the face and should not be used. Additionally, your own glasses do not provide appropriate protection and should not be used. National Jewish Health distributes two kinds of face shields: reusable face shields that are primarily used for AGPs and disposable ones that will be available for non-AGP clinical use.
How do I obtain protective eyewear?
You should obtain your eyewear in your clinical location or from your supervisor. Please reuse and be gentle with your eye protection. You should wear the eye protection (goggles, face shield or safety glasses) until they break. If they break please return them to your clinical area or Central Supply so that we can replace parts and or evaluate if they can be fixed.
Can I bring my own protective eyewear?
National Jewish Health will provide employees with protective eyewear. However, employees are allowed to bring their own eyewear protection, as long as the personal items provide appropriate eye protection and meet the above criteria. The employee is responsible for maintaining their own eyewear that they bring to National Jewish Health.
How should I clean my protective eyewear?
The protective eyewear does not need to be cleaned in between patients for non-AGP use. They should be cleaned at the beginning and end of each shift and/or upon leaving the clinical area. Disinfectant spray and/or wipes should be used to clean face shields, and goggles per the manufacturer's instructions. If performing procedures on COVID-positive or suspected COVID patients or when splash protection is needed, the eye protection should be cleaned between each patient. Once cleaned, you may wear your protective eyewear in non-clinical areas around National Jewish Health.
Where should I store my protective eyewear?
You should store eyewear in a larger brown paper bag for the face shield and smaller brown paper bag for goggles and smaller glasses between use. Protective eyewear may be stored in the clinical area or a personal office space.
How could I get prescription safety glasses?
National Jewish Health will provide $140 toward the purchase of a pair of prescription safety glasses. Employees must obtain a current prescription prior to requesting a personalized "SAFETY EYEWEAR AUTHORIZATION FORM" from the Director of Safety to be used at your nearest LensCrafters store.
If you have any questions, please email us at COVIDEC@njhealth.org
Updated 1/18/2022
If you work in an area that requires you to wear an N95 or other respirator you must be medically cleared for respirator use, fit tested and trained to wear that model of N95 yearly. Respirator fit tests are specific to the brand, model and size. Do not wear a respirator model that you have not been fit tested. Please note that this section addresses official N95 use (distributed by National Jewish Health) and not KN95 or KF94 masks, which employees may purchase commercially for use outside of official duties requiring an N95.
If you need to be fit tested, or need an employee to be fit tested, please have your manager/supervisor contact Lynne to update your risk assessment and to request a fit test.
If you work in an area that does not require you to wear a respirator, but you choose to wear one, there are precautions you need to take to ensure the respirator itself will not create a hazard. If you choose to supply and wear your own respirator you must do the following:
Use only NIOSH certified filtering face piece respirators (e.g., N95-type).

Do not use elastomeric half- or full-face respirators without approval from National Jewish Health Respiratory Protection Program Administrator Peter Farina.

Read and follow the manufacturer's instructions on respirator use, maintenance, care, storage and respirator limitations.

Keep track of your respirator so that you do not mistakenly use someone else's respirator.

Read Appendix D, Information for Employees Using Respirators When not Required Under Standard, of the OSHA Respiratory Protection Standard, 29 CFR 1910.234.

Review COVID Respirator FAQs - May 18, 2021
Updated 1/18/2022
It is important to know how to put on (don) and take off (doff) PPE to make sure that it is being used correctly and to limit exposures to the user. For information on how to do this, please see our videos (see below) on how to don and doff a surgical mask and how to don and doff N95s for initial use.
Please note that we hold donning and doffing training session for health care workers regularly. Please contact Rosine Angbanzan to schedule a training session angbanzanr@njhealth.org.
Visit the links below for PPE related training.
In the table below, you will find Oz numbers for all disinfecting wipes carried by National Jewish Health store. They may or may not be in stock. If you order a product that is not in stock, please try another product. It is imperative for all units to carry some sort of disinfecting wipes for cleaning medical equipment. Please read below for special instructions from Valerie Fitzpatrick.
PLEASE NOTE:
If you order an item and there is zero in inventory, we will give you the next comparable product.

When you order via OZ, the computer system will tell you how many we have in inventory. However, the system will not deduct the items that have already been ordered but not processed.
| | | |
| --- | --- | --- |
| OZ item # | Description | Kill Time |
| # 6816 | Wipe Small Micro-Kill | 1 Min. |
| # 6817 | Wipe Large Micro-Kill | 1 Min. |
| # 6852 | Wipe Germ Sani-Cloth AF3 | 3 Min. |
| #7226 | Wipe Micro-Kill Bleach 7x8 | 3 Min. |
| #7279 | Wipe Diversey Oxivir TB | 5 Min. |
| #7281 | Wipe Sani-Cloth Bleach Germicidal | 4 Min. |
| #7284 | Wipe Diversey Oxivir Small | 1 Min. |
| #7290 | Wipes Germicidal Super Sani | 2 Min. |
| # 7348 | Wipes Flex Disinfectant | 4 Min. |
| | Wipe Clorox Bleach | |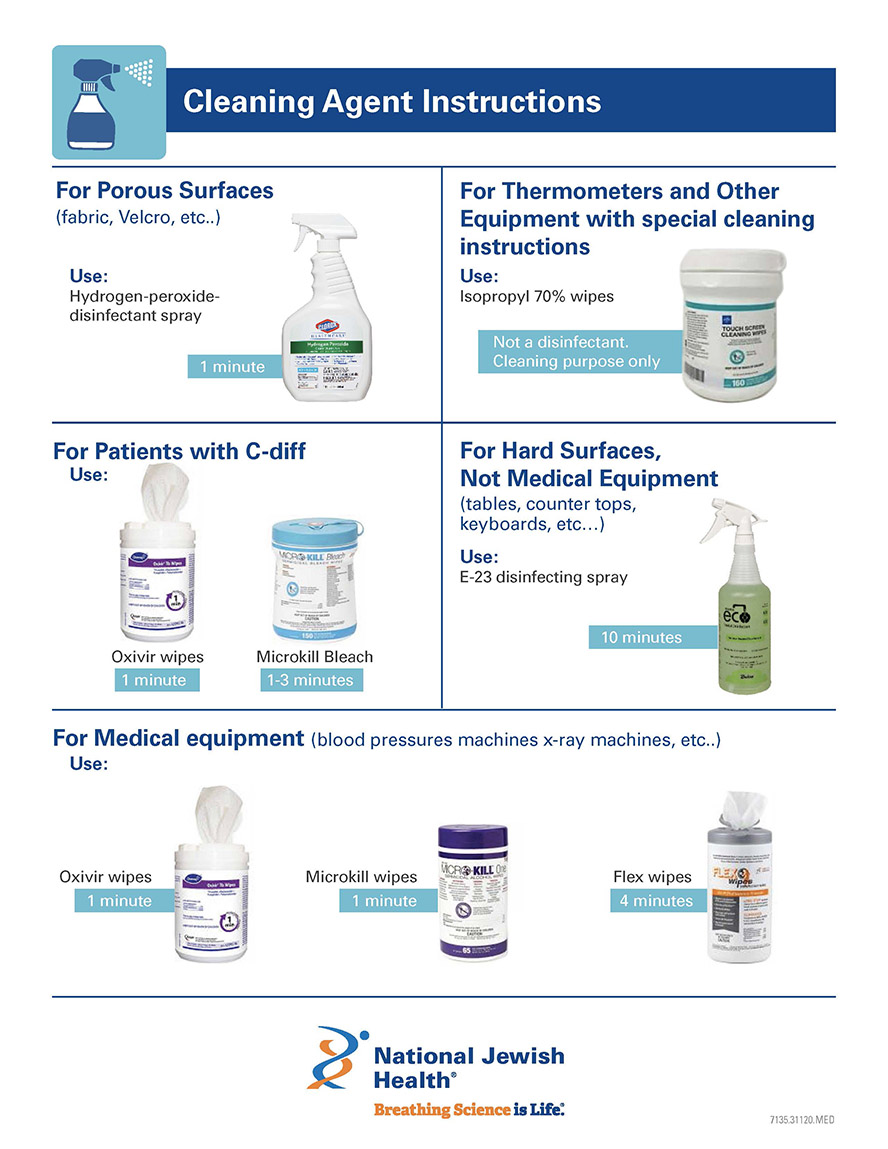 National Jewish Health is sending regular email updates and holding periodic meetings to keep all faculty and staff informed throughout the COVID-19 pandemic.