Monday, September 11, 2023, 9:30 AM 4:30 PM
---
Norbeck Country Club
17200 Cashell Road
Rockville, Maryland 20853
NATIONAL JEWISH HEALTH
IN BRIEF
Whether you live in D.C., Denver, New York, London — or anywhere else in the world — your support of National Jewish Health right now will help to make possible life-changing care and breathtaking discoveries that will impact you, your children, and generations to come.

National Jewish Health is the place in the United States where patients with the most difficult cases of lung, heart, immune and related diseases seek life-changing care. Our mission since 1899 is to heal, to discover and to educate as a preeminent health care institution. Through unparalleled, personalized patient care and groundbreaking scientific discoveries, patients from across the world find answers here that they could not find anywhere else.
Find quick facts about National Jewish Health here.
To watch a video about our work, scroll down.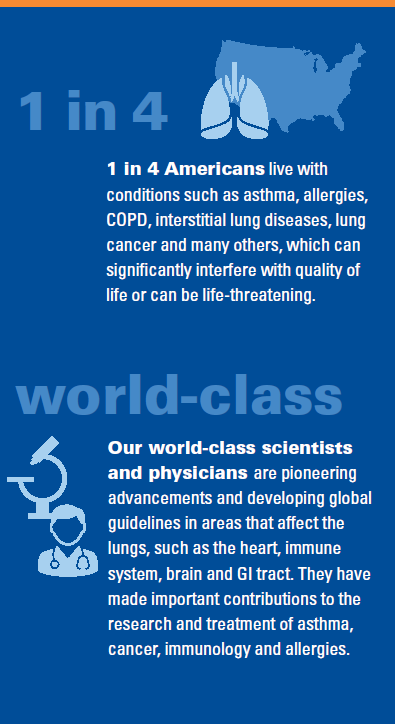 Our Achievements
National Jewish Health has been ranked in the top ten by U.S. News & World Report every year that the Pulmonology category has been included in the rankings (27 years).
In the 2023-24 rankings, our COPD, Pneumonia and Lung Cancer Surgery programs achieved "high performing" ratings, the highest rating available.
National Jewish Health is in the top 6% of U.S. institutions the National Institutes of Health find worthy of support.
Groundbreaking Research
National Jewish Health is responsible for many important scientific advances, including:
IgE, the molecule responsible for allergic reactions.
The T-cell receptor gene, critical to immune response.
Groundbreaking treatment for cystic fibrosis, asthma, COPD, among other diseases.
Discovering the root cause of chronic fatigue in long-COVID.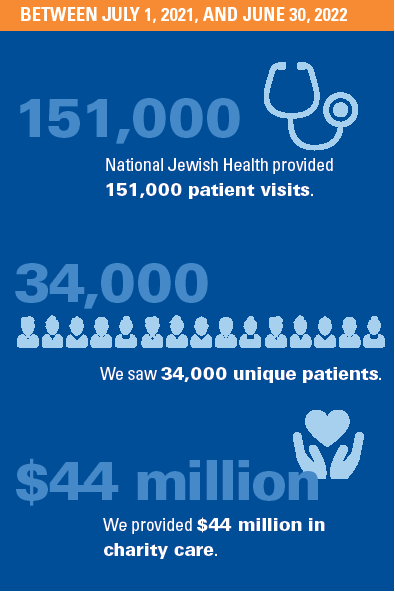 Integrated and Innovative Care
Multidisciplinary teams provide access for each patient to advanced treatment and world-class experts.
We treat all patients, regardless of ability to pay.
Educating Current and Future Leaders
Our physicians and scientists are thought leaders who elevate the standard of care while teaching others in our innovative methods.
More than 900 physicians and scientists have held research and postdoctoral fellowships at National Jewish Health and now practice across the nation and the world.
National Jewish Health operates Morgridge Academy, an accredited, tuition-free day school that serves chronically ill students in grades K-8.