The overarching mission of the Honda Lab is to understand the biology of nontuberculous mycobacterial (NTM) pulmonary disease. NTM pulmonary disease is an emerging public health threat of increasing importance globally. NTM are found in soil and water and not everyone who is exposed develops infection; thus, it is likely a variety of factors drive disease emergence. For unknown reasons, Hawai'i shows the highest numbers of NTM pulmonary disease cases in the United States. Our team is actively studying the 1) environmental- 2) host– 3) microbial factors that contribute to NTM pulmonary disease emergence in Hawai'i and other Pacific Islands in order to better understand disease emergence in the United States and globally. Additionally, environmental and clinical NTM isolates from Hawai'i are used to explore the intra- and inter- NTM species differences that contribute to pathogenicity and host evasion.
The Honda lab is supported by grants from the American Thoracic Society, National Science Foundation, Shoot for the Cure, Natalie V. Zucker Foundation, Cystic Fibrosis Foundation, NIH NHLBI PRIDE AGOLD Program, University of Colorado, GI and Liver Innate Immune Program (GALIIP), and the Padosi Foundation.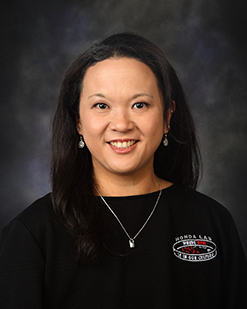 Jennifer R. Honda, PhD
Current Projects
Critical host-pathogen interactions in the context of nontuberculous mycobacterial pulmonary disease
Unearthing the environmental, host, and nontuberculous mycobacterial factors that interact to cause pulmonary disease in the Hawaiian Islands in including the Kilauea volcano
Using environmental and clinical isolates from Hawai'i to understand Mycobacterium avium complex and Mycobacterium abscessus virulence
Investigations of the nontuberculous mycobacterial pulmonary disease triad in the context of cystic fibrosis
NTM and Host Factors that Predict Lung Disease in CF Patients
NTM pulmonary disease and gastroesophageal reflux disease
Publications
Honda JR, Hess T, Carlson R, Kandasamy P, Nieto Ramirez LM, Norton GJ, Virdi R, Islam MN, Mehaffy C, Hasan NA, Epperson LE, Hesser D, Alper S, Strong M, Flores SC, Voelker DR, Dobos KM, Chan ED. Nontuberculous Mycobacteria Show Differential Infectivity and Use Phospholipids to Antagonize LL-37. Am J Respir Cell Mol Biol. 2020 Mar;62(3):354-363. doi: 10.1165/rcmb.2018-0278OC. PubMed PMID: 31545652; PubMed Central PMCID: PMC7055699.
Honda JR, Hasan NA, Davidson RM, Williams MD, Epperson LE, Reynolds PR, Smith T, Iakhiaeva E, Bankowski MJ, Wallace RJ Jr, Chan ED, Falkinham JO 3rd, Strong M. Environmental Nontuberculous Mycobacteria in the Hawaiian Islands. PLoS Negl Trop Dis. 2016 Oct;10(10):e0005068. doi: 10.1371/journal.pntd.0005068. eCollection 2016 Oct. PubMed PMID: 27780201; PubMed Central PMCID: PMC5079566
Lab Personnel
Research Associates
Affiliate
Job Openings
Dr. Honda is always interested in hearing from enthusiastic and talented, self-driven, and resourceful individuals interested in collaborative mycobacterial pulmonary disease research.
Contact Information
Jennifer R. Honda, PhD
Assistant Professor
National Jewish Health
Center for Genes, Environment and Health Neustadt Building, Room D504
1400 Jackson St.
Denver, CO 80206
Office: 303.398.1015
To reach out directly to Dr. Honda, please send an email to HondaJ@njhealth.org

To reach out to all members of the Honda Lab, email to:
HondaLab@NJHealth.org
303.398.1758
Lab Resources
The Honda laboratory is a part of the Center for Genes, Environment, and Health (CGEH) and the Department of Immunology and Genomic Medicine on the 5th floor of the Neustadt Building where the lab utilizes various unique research methods for NTM basic science research. Learn more.
Lab Activities