Tuesday, September 19, 2023, 6:00 PM 9:30 PM
---
The Woodruff Arts Center Galleria
1280 Peachtree Street NE
Atlanta, Georgia 30309
Anita's Story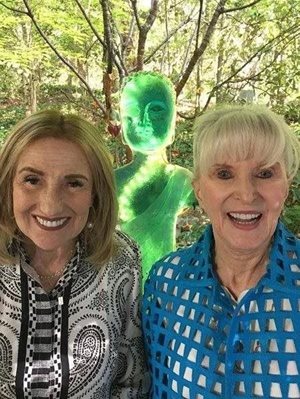 My husband, Michael, and I are honored and pleased to have been asked to chair a special evening dedicated to both my dear friend, Fay Gold, and an organization that saved my life, National Jewish Health. Art is Gold, a Tribute to Fay Gold, is planned for September 19 and will benefit National Jewish Health. I am tremendously excited about this event, which will honor one of my favorite people in Atlanta and all she's brought to the city, as well as benefit the organization that cured me when I became ill.
As Atlanta's spectacular spring blooms show, we live in a lush forest. The same famously thick summertime humidity that greens our gardens also feeds some nasty types of molds and all manner of spore-laden fungi. I was gardening every day back in 2010, decked out in pink overalls with clippers hanging from the pocket. I never wore a mask.
I developed a cough with a fever and my internist, Dr. Deborah Kelly, told me she thought I had a lung infection, known as Lady Windermere's Syndrome (LW), and sent me to a pulmonologist who did a bronchoscopy. The results were going to take four weeks and I had planned to leave for Paris soon. I didn't feel that badly, so he told me to go ahead.
Once there, I knew I was getting quite sick. When the bronchoscopy confirmed I had LW, I remarked that I knew who Lady Windermere was in literature, as I was an English major. She was an Oscar Wilde character in his play, Lady Windermere's Fan, who wore tight corsets and was not able to breathe properly.
For me, it meant becoming very sick. Most days I could not raise my head from my pillow, and I suffered a high fever. Upon returning to Atlanta and being treated, I was still not getting any better. I sent an email to some of my closest friends asking if anyone had heard of the disease and to offer any insights. The disease is usually chronic and is a non-contagious cousin to tuberculosis.
Fay Gold told me about National Jewish Health in Denver, and after two years of traveling back and forth for treatment, I was cured. Since then, the hospital has shared my name with patients looking to speak with someone who has experienced this syndrome. I, of course, am always happy to help, as I am with this important fundraiser. I am forever grateful to National Jewish Health and my close friend Fay Gold.
I hope you will join me in championing this spectacular event by donating generously and being a part of our great celebration. I appreciate your support and trust in National Jewish Health to keep advancing respiratory care and research.
Thank you in advance. I look forward to seeing you there.
Anita Thomas
Co-Chair, Art is GOLD
Pictured above: Fay Gold and Anita Thomas pose for a picture in Anita's garden, flanked by a glass Buddha created by the artist Marlene Rose.
Anita Thomas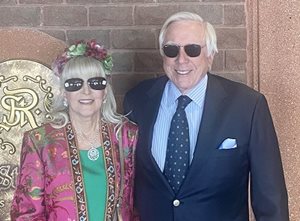 A promoter of the arts, Anita Morrison Thomas graduated from the University of Georgia and was a mentee of Lamar Dodd in her education in the arts. She served as the Chairman of the Board of the Savannah College of Art and Design (SCAD) Atlanta Advisory Council from 2007 to 2011. Currently, she is on the SCAD Board of Trustees.
Anita, known as "BoPeep" because of her leadership qualities, was a board member of the Michael C. Carlos Museum at Emory University, where she chaired Veneralia in 2006. She served two terms on the Georgia Council for the Arts, from 1994 to 1999. As creator and owner of Anita's Accents, Ltd. and designer of handcrafted jewelry in the 1980s, she was a guest designer at the Atlanta Apparel Mart and honored as one of Georgia's five designers featured in local and national publications.

She is also a professional writer, having contributed more than 40 articles to Southern Accents, Veranda Magazine and Atlanta Homes & Lifestyles. In 2014, she was honored as one of Atlanta's Women of Style and Substance.
Anita is married to Michael Thomas, the mother of four children and the grandmother of 11 grandchildren. She enjoys travel, collecting art, gardening, snow skiing, yoga, entertaining and reading.

Pictured above: Anita and Michael Thomas


Michael Thomas
Michael Thomas has been in the government guaranteed loan business for more than 35 years with $3 Billion in loans originated and $3 Billion in loans purchased in the secondary market. He headed the Small Business Administration (SBA) Transition and Reorganization for President Jimmy Carter. As a partner at Ernst & Young, he set up the Ethanol Guarantee Loan Program for the US Department of Energy.
Michael co-authored the SBA Model Service Provider Agreement. He founded and managed eight lending and investment institutions specializing in SBA and USDA loans, including B&I Lending, the #1 USDA RD Lender in the nation from 1997 to 2001. He also served as a founder and President of the National Rural Lenders' Roundtable in both 1999 and 2000.

Michael is a frequent speaker at Rural Economic Development conferences. He currently functions as the Chairman of Thomas USAF Group, LLC. He is also a member of both the National Rural Lenders and Secondary Market Hall of Fame.